It's safe to say there are quite a few foodies on the team at Action Foundation, including Communications + Events Executive Katie Bryson who has her own food blog which she started ten years ago to provide inspiration to family cooks.
Katie's rounded up some of her favourite party recipes to feed guests at your Action Foundation Summer Garden Party, along with some savvy tips of how to keep your guests safe and socially distanced without killing the party atmosphere.
---
Party food has to be my favourite – I absolutely love whipping up tasty treats for my family and friends to feast on. Whether it's been endless kids' birthday parties, or summer cocktails with my friends, I've put on my fair share of buffets. The trick is to choose simple recipes that can be made well in advance so you're not stressing on the day.
Savoury Treats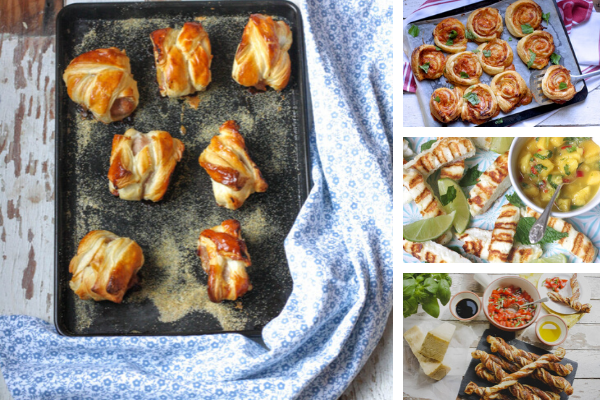 Halloumi Dippers with Mango Salsa
A tangy and fresh mango salsa which is perfect for dipping salty sticks of the Cypriot cheese into.
Get the recipe
Super quick Coronation Chicken
A corner-cutting recipe that's the perfect sandwich filler – or try it in home-made pasties!
Get the recipe
Easy Cheese Straws with Fresh Tomato & Basil Dip
Super quick to make, these Grana Padano Easy Cheese Straws are perfect for summer parties and picnics. Eat them fresh from the oven with lashings of my fresh and chunky Tomato and Basil dip.
Get the recipe
Chutney Sausage Rolls
You only need a handful of ingredients to make these delicious and tangy baked treats.
Get the recipe
Pizza Swirls
These are easy to make, a great activity with kids and are so delicious you might have to make a second batch if you've scoffed them all before the party!
Get the recipe
Sweet Bakes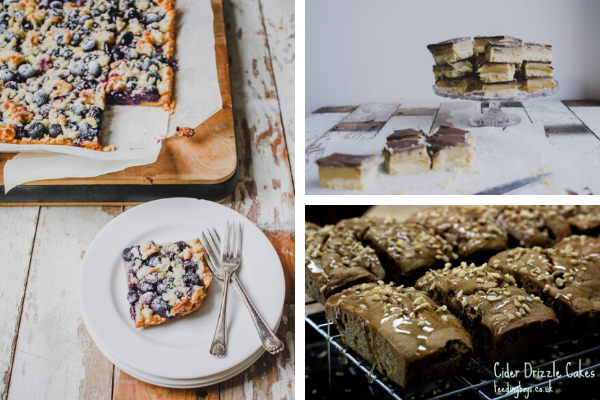 Easy Scones
The classic afternoon tea treat, pile them high with lashings of jam and clotted cream. My fave recipe is over on BBC Good Food.
Get the recipe
Millionaire's Shortbread
Or chocolate caramel squares as my mum calls them – she taught me how to make them! You can make these well in advance and even freeze them.
Get the recipe
Blueberry Crumble Squares
These fruity bakes are from my Polish friend Ren's food blog – they are absolutely gorgeous with a cup of tea or glass of fizz!
Get the recipe
Cider Punch Drizzle Cakes
If you love a tipple of cider, then these are the bakes for you. Gloriously sticky and spiced with cinnamon, one just isn't enough…
Get the recipe
Cocktails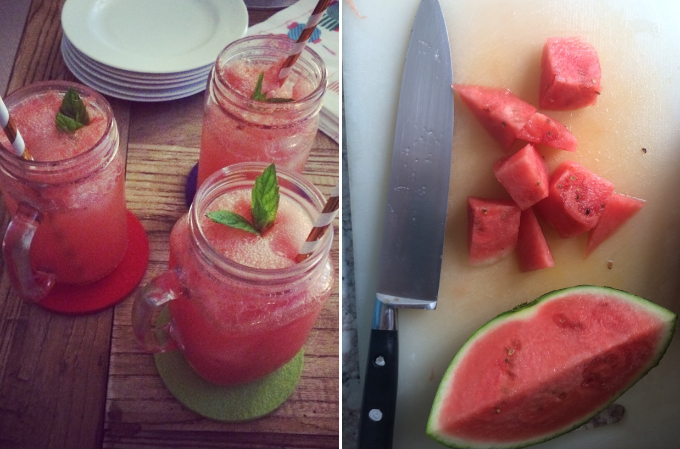 Watermelon Prosecco & Mint
These pretty cocktails are the perfect refreshing party tipple. The taste and colour of watermelon is an instant shortcut to feeling summery, even if the weather's not behaving itself. They're far too easy to knock back though so be warned they can be lethal!
Get the recipe
English Garden
The most appropriate cocktail for a Garden Party surely?! I served these up at my birthday recently and they went down an absolute treat. Gin, fresh apple juice, elderflower liqueur and cucumber – it's a garden in a glass.
Get the recipe
---
Social Distancing at Parties
When it comes to being the perfect Socially Distanced party host it's a matter of giving it some careful thought so your guests can relax and enjoy the experience.
Getting ready
Set out your furniture so people can be at a safe distance. Make sure all surfaces are wiped down and clean. Wash your hands both before and after food prepartion.
On arrival
As soon as you welcome your guests, explain what measures you've put in place.
Food
Big sharing platters and communal dips are a total no-no – just divvy everything up into smaller plates and bowls and place them in the vicinity of who they're for.
Washing hands
Set up a few areas with hand sanitiser so people can easily wash their hands at regular intervals.
Toilet breaks
Make sure everyone knows where the loo is. Leave some anti-bac wipes out so people can wipe down everything they've touched afterwards. It's a good idea to leave some paper towels/kitchen roll out to dry their hands on instead of a communal towel.
After the party
Make sure all surfaces are wiped down and clean. Wash your hands.
Do you want to throw a Summer Garden Party for Action Foundation? Email [email protected] for more information!