The History of Action Foundation
Action Foundation is an award-winning charity based in Newcastle upon Tyne providing support to disadvantaged refugees, asylum seekers and other migrants across Tyne and Wear. Through our three supported housing projects, InterAction Drop-in project and English language school we aim to plug a gap in existing provision and enable vulnerable migrants to; avoid homelessness and extreme poverty, access vital services, increase their skills and employability, access legal support, integrate and live independently. To do this we work closely with local and national organisations including the British Red Cross, North East Law Centre & West End Refugee Service. Our work with these organisations has enabled us to arrange family reunions and secure legal support for our beneficiaries with no recourse to public funds amongst a range of other support provision.
You can read about our history and development below!
The Covid-19 Pandemic has massively affected the lives of our beneficiaries and changed the way we deliver some of our services to ensure that isolated and vulnerable refugees, asylum seekers and other migrants living in Tyne and Wear continue to be able to access the help they need.
During the first lockdown our English lessons moved out of the classrooms with learners supported remotely with online classes and resources, as well as paper materials and phone calls. InterAction Drop-in re-opened after the first lockdown and adapted by creating a safe space for beneficiaries by reducing the number of people, operating a one way system, the use of PPE and perspex screens.
While our Accommodation Services continued throughout the year, sadly our Action Hosting project was put on hold temporarily to ensure the safety of both hosts and guests through the uncertainty of the ongoing pandemic.
In June Action Foundation were honoured with the Queen's Award for Voluntary Service, the highest award a voluntary group can receive in the UK. It was a fitting recognition for the tireless work of our large team of over 200 dedicated volunteers, many of whom have lived experience of the asylum system. CEO Julian Prior said: "Action Foundation would not be able to provide the support we do without their selfless, skilled and compassionate input to improve the lives of some very vulnerable people that we have the privilege to serve."
We celebrate our 10th Anniversary!
February saw the launch our Gift of Words appeal at a special event 'Taking Action for Integration' led by our guest speaker and Patron, Maurice Wren, CEO of The Refugee Council. At this event we showed our Appeal Film and outlined our need to raise £75,000 a year to enable us to continue to provide community English classes.
Our Gift of Words Charity Dinner Dance took place on 14 June at which we welcomed our The Bishop of Durham as our after-dinner speaker.
In October we scored a double-win at the North East Charity Awards taking home both the North East Charity of the Year gong along with our CEO Julian Prior being recognised as Charity Leader of the Year.
Over the course of the year we supported 1413 refugees, asylum seekers and other migrants through our housing and language projects (27% more than the previous year).
Through our pilot project LET (Learn English Together), that supports other organisations to deliver English classes to migrants, we trained 5 other organisations involving 53 volunteers and delivered 79 sessions.
In August we moved our base in Sunderland from The Place to Fusebox at 90 Coronation Street which is also the home of several other charities. With extra space, this building has enabled us to increase our provision of free English classes in Sunderland.
In partnership with Westgate Baptist Church, we opened a new house for asylum seekers with no recourse to public funds and were able to provide three more vulnerable people with some much needed stability.
We were chosen by The Lord Mayor of Newcastle, Councillor David Down, to be one of his two chosen charities for the 2018/2019.
We have provided over 1,000 nights of accommodation to destitute asylum seekers through our Action Hosting project.
In August 2017 we opened our first purchased property increasing the capacity of Action Letting. This was made possible through a grant award, a low-interest loan and the generosity of two individual donations.
In September 2017 we started developing our newest project; Learn English Together (LET). This pilot project supports small community groups and churches to deliver their own English language session so watch this space for 2018.
Our most recent project, Action Hosting, launched in May 2016. This project matches volunteer hosts offering a spare room in their home, with destitute asylum seekers for an agreed period of time. Through living with a host family this vulnerable group is provided with safe and secure accommodation, the opportunity to increase their stability and be supported by our Action Housing Support Workers to explore their future housing options.
In 2015/2016 we expanded our Action Letting, Housing and Action Language projects into Sunderland where there is a recognised need and demand for these services. We also launched our second social enterprise, Action Language PRO, which provides fee-paying professional English courses and contributes financially towards the delivery of our free classes.
In December 2015 we were one of 5 charities to be awarded a national Guardian Charity Award out of over 1,200 entries. You can view our winners film here!
In 2014 we were one of 6 charities to win a national Centre for Social Justice Award recognising our work addressing poverty and disadvantage. This was the first time our work had been recognised so publicly and was a great achievement for the whole team!
To financially support the delivery of these projects in 2012 we launched Action Letting, our first social enterprise to generate surplus income for our charitable work and meet related social needs. Action Letting provides accommodation and support to new refugees and helps prevent homelessness as they transition from the support of the asylum process to living independently. To date we have supported 147 beneficiaries through this project.
Following the success of the ESOL Summer School we started to teach English two days a week in April 2008. On the first day we have 4 students and 5 volunteers but by the end of the first term this had increased to 46 students attending 3 different classes. This project is now called Action Language and has free classes every day of the week during term time.
We started initially through securing a property from a philanthropic landlord to provide supported accommodation to 4 destitute asylum seekers.
We quickly realised that the key to many of our residents becoming more integrated and being able to access other services they needed was to be able to communicate in English more effectively. Therefore in 2007 we ran a pilot English Summer School for asylum seekers, refugees and other migrants. This proved to be a great success and sparked the idea for permanent and more regular ESOL service.
Action Foundation started as a response to the needs of the local community by City Church in Newcastle in 2006 by our CEO Julian Prior. Following research into the greatest needs in Newcastle and an assessment of how the church might be able to help meet these needs, we felt that we should start with the issue of Asylum.
Following further research (supported by Your Homes Newcastle) it became clear that there was no agency in Tyneside set up to provide accommodation for asylum seekers that had been refused the right to remain in the UK yet had not returned home. It was estimated that there were over 300 people in Tyne and Wear that were destitute, that had no recourse to public funds and were entirely dependent on charitable organisations or friends for their most basic survival. As part of this research we got to know Open Door (North East) based in Middlesbrough who were housing destitute asylum seekers and they kindly agreed for us to become a Tyneside branch of their charity. This enabled us to raise funds and start housing asylum seekers, working in close partnership with West End Refugee Service and East Area Asylum Seeker Support Group (Common Ground) as well as many other individuals and organisations. This project is now called Action Housing.
Vision
Action Foundation is a charity with a compelling vision to empower vulnerable asylum seekers, refugees and migrants in overcoming exclusion and poverty. We do this by creating opportunities for them to lead safe, independent, and fulfilled lives. Our services are made available regardless of our clients' ethnicity, beliefs or background.
Values
Action Foundation seeks to demonstrate in practical ways the values of love for the poor by providing support which gives real hope for the future. Our desire is to serve and we treat all with respect.
Partnership
The charity was founded in 2005 by City Church, Newcastle upon Tyne, as an expression of Christian faith which leads to helping the poor and marginalised. Action Foundation is supported by City Church along with many other churches, trusts, organisations, and individuals. Our growth has been greatly facilitated by building partnerships with all who share our vision and values, regardless of personal beliefs.
Accounts
Income and Expenditure 2019/20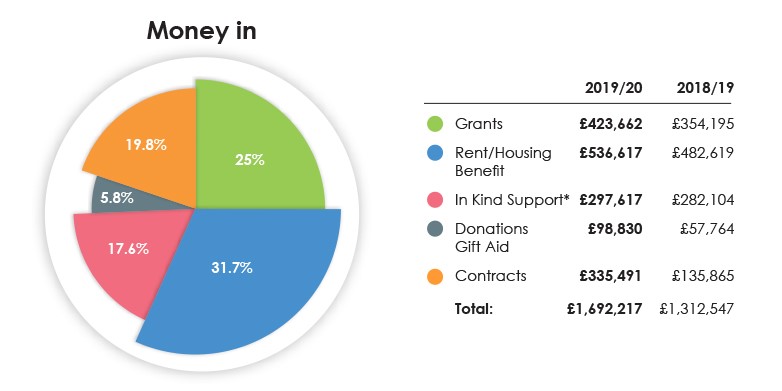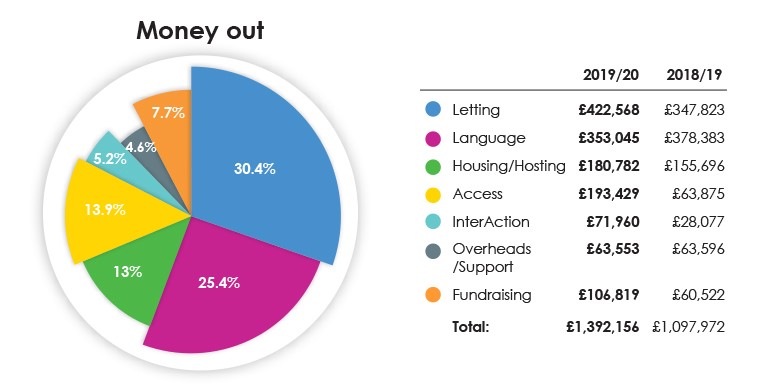 Action Foundation is a Charitable Company Limited by Guarantee. Charity number 1132051. Company number 6946097. Since starting in 2006 (initially under the governance of Open Door North East) our income and expenditure has grown steadily as indicated in the graph below.
More information including our Annual Report of Accounts can be found on our Charity Commission page.