Action Foundation is an award-winning charity based in Newcastle upon Tyne. Through our free English language school, supported housing projects and InterAction Drop-in, we support refugees, asylum seekers and other migrants to integrate successfully into the community and lead more independent and resilient lives.
Action Foundation are asking supporters to give the gift of community to refugees this Christmas with the launch of our Winter Welcome Appeal, raising money for the InterAction Drop-in project.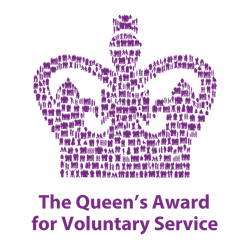 Action Foundation have been honoured with the highest award a voluntary group can receive in the UK.
We are one of 230 charities, social enterprises and voluntary groups to receive the prestigious award this year.
Keep up to date with the latest Action Foundation news, events, projects and fundraising opportunities by signing up to our newsletter or visiting us on social media.
Action Letting
Action Letting provides supported accommodation to newly granted single adult refugees at risk of homelessness during their rapid transition to mainstream housing. We currently manage 15 properties in Newcastle, Gateshead and Sunderland on behalf of private landlords.
Find out more about Action Letting.
Action Housing
Action Housing provides supported accommodation to destitute asylum seekers with no recourse to public funds. Due to their immigration status this extremely vulnerable group are unable to work or receive any government support and are therefore entirely reliant on the help of charities or friends to survive.
Find out more about Action Housing
Action Access
Action Access offers a community-based alternative to clients who have been refused asylum and are currently held in detention. The project has been designed in partnership with the UNHCR and the Home Office.
Find out more about Action Access.
Action Hosting
Due to the Coronavirus outbreak Action Foundation has made the difficult decision to temporarily close our Hosting Project. Action Hosting matches volunteers offering a spare room in their home with a destitute asylum seeker to provide short-term accommodation.
For more information about Action Hosting.
Action Language
Action Language provides free English courses in Newcastle and Sunderland city centre. Our aim is to provide ESOL classes to refugees, asylum seekers and other migrants unable to access mainstream classes in a supportive environment.
All our free classes are taught by qualified volunteer teachers.
Find out more about Action Language.
InterAction
InterAction provides a friendly, accessible, interactive and supportive environment to help new and other migrants experiencing loneliness, isolation and feelings of disorientation, to connect with other people and cultures, local places and services.
For more information about InterAction.
News & Events
We're delighted to introduce you to Reena who started with the Accommodation Team this month, assisting clients across our supported housing projects, and making sure they have everything they need. Find out more about the newest face to join Action Foundation… Tell us a bit about yourself I've always lived in Newcastle, but surprisingly I don't have a Geordie accent! I stay with my lovely but crazy family and I have a three-year-old nephew who I simply adore. My partner is from India, and we're hoping to get married this year (if Covid allows). I love travelling, dancing, food, and [...]
Action Foundation have been awarded with a £100,000 Community Aid package by Barclays to boost our work reaching parts of the community worst hit by the COVID-19 crisis. In April, Barclays announced a £100m Community Aid Package to support charities that are helping people and communities most impacted by COVID-19. Alongside a colleague-matched fundraising initiative and the £10m pledged through their 100x100 Programme, Barclays is donating funds to charity partners across the UK, Americas, Asia and Europe to ensure help reaches those who need it most. In the UK these partners include those who are meeting the immediate needs of [...]
Action Foundation are celebrating raising £10,406 for the 'Winter Welcome' Christmas appeal, giving a much-needed boost to our InterAction Drop-in project.   The money was generated in just under six weeks, through the generosity of supporters, volunteers and local organisations.   Our innovative twice-weekly InterAction Drop-in provides a welcoming, safe and supportive environment, giving migrants the chance to connect directly with the local agencies who can empower them to put down roots within their community.  'Amazed and humbled'  Kate Townsend, Project Manager InterAction Drop-in said: "We in the InterAction team have been amazed and humbled by the incredibly generous support we've received from the Christmas Winter Welcome Appeal."  "The Drop-in [...]
"I got the chance to improve a lot my English language and to meet new people and friends. Thanks to Action Language and ESOL for Work course, I got my job in the UK, I really feel much more confident."