Fundraising Events
Get involved, show your support or organise your own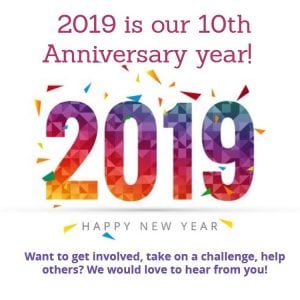 For our 10th Anniversary 2019 we've got some great challenges for you! Sign up now and look forward to a fantastic adventure ahead! We have also teamed up with Global Adventure Challenges to offer you the chance to take part in some amazing UK challenges. See below for more details.
Want to organise your own fundraising event? We're constantly amazed by the inventive and inspiring ways you come up with to fundraise for Action Foundation, from curry lunches and pickle making to running the Great North Run!   Whatever you're doing, wherever you're doing it, whatever amount you're aiming to raise, we're incredibly grateful to have you on our team! You'll be making a big difference helping us to provide asylum seekers and refugees with safe and warm supported accommodation and Skills for Life English language classes.  
Find out how to fundraise for Action Foundation by visiting our giving page at https://www.goldengiving.com/wall/action-foundation You will be asked to sign up to create your own individual and team fundraising pages. To find out more get in touch with us at [email protected]
13 – 15 September 2019 Availability: GOOD
Registration Fee £75 + Min Sponsorship £510
It's a perfect location for a UK charity challenge! This most ancient of charity treks takes you from Lanercost Priory to Brocolitia, encompassing some of the most visited and fascinating ruins. Hadrian's Wall was built in AD122 on the orders of the Roman Emperor Hadrian, and stretched from the East to West coasts of Britain, from Bowness on Solway in the West to Wallsend in the East. It is the most remarkable Roman monument in the country and quite unique throughout the former Empire. Now a UNESCO World Heritage Site which cuts through Northumberland National Park, Hadrian's Wall attracts trekkers from all over as it offers great challenging walks, filled with a stunning backdrop and history. An amazing experience with fantastic support awaits – everything from their tented village to exceptional guides and glorious food! Join the team and 'step back in time'. View the brochure.
19 – 21 June  2020 Availability: GOOD
Registration Fee £75 + Minimum Sponsorship £760
Grit and determination are vital to completing this fast-paced challenge! With a total trekking time of 15 hours or less, you'll climb around 10,000 feet and have walked approx. 22 miles. It's no wonder this charity challenge is the most highly regarded trekking challenge in the UK! A tough challenge, yes, but with their support and exceptional care and encouragement you can conquer this classic charity challenge. Global will be driving the team through the night, guiding each member up each mountain and even giving the occasional hug and high five when required. Join the team and tick this classic UK challenge off your list. View the brochure.