Join our community of fundraisers!
Get involved, show your support or organise your own event
Want to organise your own fundraising event?
Whether it's a sponsored swim, office bake sale or a charity gig…. We can support you with everything you need to make your fundraiser a HUGE success!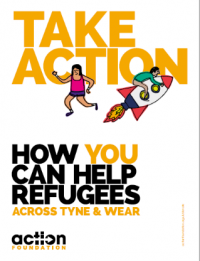 Click here for our brand new Fundraising Pack – your handy guide telling you EVERYTHING you need to know about hosting your own fundraiser! 
Once you've decided on your activity – all you need to do is a set a date and create a fundraising page.
To find out more get in touch with us at [email protected] and we'd love to have a chat!
Captain Tom's 100 Challenge
April 30th – May 3rd 2021
This challenge is SO simple. All participants need to do is dream up a Captain Tom 100 challenge based around the number 100 and do it at any time and anywhere over Captain Tom's birthday weekend – starting on Friday 30 April through to Bank Holiday Monday 3 May.
The challenge could be walking 100 steps or running 100 metres, scoring 100 goals, baking 100 cakes, climbing 100 stairs, hopping 100 laps of the garden, building 100 sandcastles, writing a 100-word poem, flipping 100 pancakes – anything at all, inside or out.
Once supporters have chosen their challenge, they can fundraise or donate to Action Foundation and share their 100 on social media, using #CaptainTom100
Contact [email protected] to find out more or  click here to set up your own #CaptainTom100 fundraising page for Action Foundation
Summer Garden Party Fundraiser
Spring/ Summer 2021
Fundraising Target £50
FREE Fundraising Toolkit!
Support vulnerable refugees this summer by throwing an Action Foundation Garden Party Fundraiser at home. If you've spent lockdown perfecting your garden, here's a fun excuse to show it off!
From decorations to party games, we'll support you with everything you need to hold your own garden party!
Afternoon tea in the garden, Pimms party or children's tea party – this fundraiser is for everyone!
We've not been able to hold many events over the last year, so we're hoping our superstar fundraisers (that's YOU) can make the most of the remaining six weeks of summer.
Just get in touch with [email protected], and the team can help you to start party planning! You can get more information about our Free Party Packs and Printable Downloads here
The Great North Run
September 2021
Entry Fee £58,
Minimum Sponsorship £350
The Simply Health Great North Run will be back in 2021, and we'd love you to join Team Action Foundation in supporting refugees to overcome exclusion one mile at a time!
It's the biggest half marathon in the world, so you'll be taking part alongside more than 57,000 runners over a 13.1 mile route through the streets of Newcastle, over the handsome Tyne Bridge, through Gateshead and onto the finish line at the stunning South Shields coast where you'll receive a hero's welcome. The party atmosphere and support of the crowds make this THE running event to be part of, and one you'll remember for the rest of your life.
To secure your place for 2021 NOW email [email protected]
Team Action Foundation Support Package:
Personalised fundraising advice
Regular support from our friendly team
Action Foundation running vest
Starting line send-off
A hero's welcome at the finish line with refreshments and goody bag
Ballot place holders
If you get a ballot place in the 2021 Great North Run, we'd absolutely love you to join Team Action Foundation and we'll support you all the way. There's no minimum fundraising target, we just ask you to fundraise as much as you can.
Last year's runners
"I loved the sense of team – it was a highlight of the whole experience!"
"Thank you again for making me feel part of a team, I had so much fun at the breakfast beforehand and really appreciated all the special touches that you and the team organised (the postcard afterwards was so lovely!)"