This year the theme of Refugee Week is Healing and a group of refugees and asylum seekers from Action Foundation have been working with Northern Print on an exhibition that will open at BALTIC Centre for Contemporary Art on Wednesday. There are lots of other celebratory events planned for the week around Tyneside and Sunderland. Read on to find out more.
---
Arts and refugee organisations in Newcastle and Gateshead have come together to produce an impactful exhibition that opens to the public at BALTIC Centre for Contemporary Art, Gateshead this Refugee Week.
Northern Print has been running workshops with a group of people from our InterAction Drop-in whilst another group from fellow refugee charity, WERS (West End Refugee Service) has teamed up with BALTIC to create a selection of art work.
All of the prints and paintings are based around the theme of this year's Refugee Week which is Healing.
In early June Northern Print visited our weekly Drop-in to get people involved in a large woodcut measuring 150cm by 150cm. It will form part of the exhibition in BALTIC's Learning Lounge, on display from Wednesday 22 June until 21 August 2022.
Afnan, 29, originally from Saudi Arabia, has created a Newcastle skyline because for her, coming to the city represents healing. She said: "I also think art is very healing because I don't think about negative things, I just focus on what I am making – it makes me feel better mentally."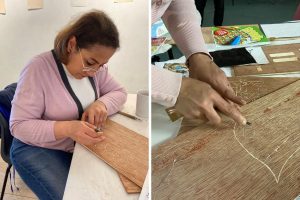 Tamineh, (left), 35, who came to Newcastle seven months ago with her husband Mahdi, 32, from Iran, has contributed a woodcut featuring a heart with a syringe in it and a sticking plaster over stitches.
"This is my interpretation of healing. When you leave your country, the heart needs to heal – so that is the meaning of the syringe and the sutures.
"I learn new art with my friends. Northern Print is a good place for art and I can practise my English. I enjoy woodcuts the most."
Another participant, Adnan, 25, who came to Newcastle last November from Saudi Arabia, has carved a phoenix.
"Whenever I hear the word 'healing'. I remember the phoenix. She burned then rose again, rising from the ashes".
"This is the first time I do art – I like art though and have visited most of the art galleries in the area."
Helen Donley, Studio Printmaker with Northern Print, said she had found working with people from displaced communities inspiring. "They've had such a lot of enthusiasm to try different techniques and have been very quick to pick things up and learn.
"Everyone has a natural ability and they teach other people once they learn something – they're quick to pass that knowledge on and there's been a real sense of community and friendship between everyone. They've really embraced the 'healing' theme, been really thoughtful and everyone has had their own ideas of what healing means to them – it's been really successful, and I can't wait to see their work on display at Baltic."
Annie Bedford, Producer (Communities) at BALTIC added:
"It has been such a privilege to come together with people and organisations to mark this year's Refugee Week. The opportunity to work creatively as a group has highlighted the power of making, friendship and togetherness in the healing process, with many happy hours spent experimenting with ideas, techniques and materials.

"I'm excited to see the art made over different workshops and across different venues come together for the exhibition and look forward to building on this year's collaborations in the months and years to come."
The exhibition will be on display in BALTIC's Learning Lounge on A2 from Wednesday 22 June until Sunday 21 August. Visit Wed-Sun 10am-6pm, free entry. More information about BALTIC's programme of activities for Refugee Week 2022 can be found here
OTHER EVENTS
An open studio event at D6 Culture in Transit who are welcoming people to their studio at 5 Charlotte Square, Newcastle from 4-6pm on Thursday 23 June. More details here
A whole week of events are lined up at the Comfrey Project in Gateshead. Their Windmill Hills Garden will host open days Monday to Friday between 10.30 and 2.30pm different activities each day. Look out for karaoke, a photography exhibition and Turkish Traditional Arts to name a few. More details on their website.
WERS is welcoming people to their garden for food, drinks, arts and crafts, singing performances and henna painting on Thursday 23 June between noon and 3pm.
Theatre group Curious Monkey are taking their caravan to West End Refugee Service on Monday 20th from 10-3pm and are running a drama workshop at Action Foundation (ticketed event) on Tuesday.
Three tree plantings will bring together one of Newcastle's newest community orchards, a 14th century ancestral home and a talented Iranian gardener, in a series of events attended by residents, refugee support organisations and community groups to mark the contributions of refugee communities to local life.
On Friday 24 June at noon an Indian Horse Chestnut tree will be planted at Howick Hall arboretum near Alnwick 'United Nations of Trees', home of the UK's largest collection of wild origin plants.
On Sunday 26 June at 1.30pm Jesmond Community Orchard will add a fig tree, grown by Ali Reza Iravani, who settled in Tyneside in 2012
Newcastle University – a university of sanctuary –in partnership with North East Solidarity and Teaching (N.E.S.T), will also plant a fig tree from Asia Minor.
On Saturday 25th June, 7pm, CitizenSongwriters will host a free performance of 'Stories of Sanctuary Sunderland' at Sunderland College, Bede Campus. Their performance will celebrate the diverse stories of those seeking sanctuary (refugees and asylum seekers) in Sunderland.
---