Our work here at Action Foundation heavily depends on the commitment and generosity of our dedicated volunteers. In fact we just couldn't deliver the work that we do without them. Last year an amazing 156 volunteers supported Action Foundation across all of our projects! To kick off Volunteers' Week 2022, we'd like to hand over to Action Language volunteer, Thushara Chandrasini, who, along with fellow volunteer teaching assistant, Sam Webb, was honoured to represent our charity at a very special event – a Buckingham Palace Garden Party.
It was a celebration of Action Foundation being awarded the Queen's Award for Voluntary Service in 2020 – when the party had to be postponed due to the pandemic. Thushara says:
"Being a teaching assistant at Action Foundation has been a truly rewarding experience as it has given me the opportunity to be part of a team which provides vital support to students and helps to shape their confidence, especially when learning English. Action Foundation doesn't just help people, it creates a positive and welcoming atmosphere where, regardless of whether you are a student or a volunteer, you will always be treated with respect and greeted with a warm and friendly smile."
---
Our Day at the Palace by Thushara Chandrasini
Having been a volunteer at Action Foundation for three amazing years, I have had many great memories, and it has been such a pleasure being able to see the growth and the powerful ways in which students' lives have changed as a result of attending their English classes.
With this being the time of year that voluntary sectors are recognised by Queen Elizabeth II, I was honoured to be one of the chosen volunteers to represent our wonderful charity at the Queen's Garden Party at Buckingham Palace on 18th May 2022.
Joined by fellow teaching assistant, Samantha Webb, the pair of us met on a beautiful and sunny day, as we made our way to Buckingham Palace, getting even more excited as we got closer and closer into the grounds of the Palace itself. Security personnel were on hand to ensure that everyone got in safely and securely as hundreds of people, all dressed to impress, descended on the Palace, all full of joy with the afternoon festivities ahead.
Having arrived, myself and Sam took the opportunity to appreciate the beautiful scenery including the Queen's stunning garden with the most colourful and vibrant of flowers, and despite it being a big garden, fit for a Queen (!) each and every corner was well-maintained and treated with love.
Taking a few obligatory selfies (be rude not to right?), we continued our walk to the main area which was so full of life. You had live music playing in the background, guests posing for photos, new friendships being formed and guests enjoying a spot of afternoon tea in the most beautiful of surroundings.
Delicious treats
Loving the look of all that tasty looking food was making myself and Sam feel peckish so we stood in line to help ourselves to some of the delicious treats on offer including freshly made sandwiches, wraps, freshly made apple juice and not to mention a wide selection of cakes and sweet treats.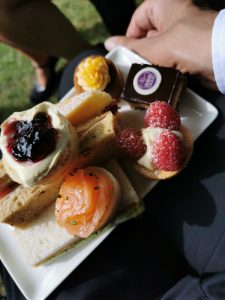 At 4pm the Changing of the Guard took place, followed closely by the national anthem for the arrival of the Royal Family, with all guests standing to attention. With Her Majesty Queen Elizabeth II unfortunately not being able to be present due to mobility issues, the question on everyone's lips was who was going to be in attendance that day. With this in mind, guests gathered in crowds, eager to catch a glimpse as the Royal Family made their way to the Royal Tent, speaking to a few members of the crowd along the way. Standing on my tip toes, I was able to see a glimpse of Prince Edward and his wife Sophie, Countess of Wessex. Prince Edward came towards the crowd, asking everyone where they were from, and you heard Durham, Glasgow, Cambridge, Surrey, Sunderland and more as everyone shouted out loud.
Celebrity spotting in the sunshine
With the weather being extremely warm, and spirits still high, staff at the Garden Party made sure that guests were staying refreshed by providing barley water and if you were lucky a tub of ice cream too. With the Royal Family enjoying their own refreshments in the Royal Tent, joined by friends and guests including a number of dignitaries and government officials, people took the moment to just sit in the sunshine and chat away as they made the most of the wonderful atmosphere. If you were looking carefully you may have recognised a few familiar faces too including Great British Bake-Off Judge, Prue Leith.
With it almost being time for the Royal Family to depart, crowds lined up once more as they waited to catch one final glimpse of the Royal Family. Prince Edward, followed by the Countess of Wessex, and to the huge delight of many, even the Duchess of Cambridge, Kate Middleton, looking ever so stunning in her outfit, taking a moment to have one final conversation with a few people in the crowd before heading on to catch up with the rest of the Royal Family.
The afternoon progressed and it was almost home time, so saying a warm farewell to Sam before she headed off, I took the opportunity to take another walk around the beautiful grounds, take a few more pictures to capture the moment, before finally making my way out the gates of Buckingham Palace.
As I thanked the staff and security on my departure, I walked through Green Park with a huge appreciation in my heart, and the biggest of smiles.
To be able to have the privilege of representing Action Foundation at something such as the Queen's Garden Party will and always shall be one of my favourite life experiences that I will cherish forever.
To find out more about volunteering opportunities with Action Foundation, click here.