Ian Raby, ESOL coordinator with our Action Language team, is looking forward to meeting the first Ukrainian refugees in Action Foundation's English classes. Here, he gives an update on his friends and former colleagues in Ukraine, where he spent time as an EFL teacher.
---
During my time living and working in the former USSR, the start of May was always a good time. There, both the first and the ninth of May are public holidays and we were given extended breaks allowing us to travel to other cities and other countries. My social media timelines are full of memories of visits to Crimea, Finland, Lithuania, Estonia, Kyrgyzstan and Kyiv.
This year, May 9th Victory Day celebrations in many places outside of Russia have been muted, the orange and black victory colours replaced by Ukrainian flags or the 'new' white-blue-white flag which has become a symbol used by Russians who are against the war in Ukraine.
I have been in regular contact with a number of Ukrainian friends and former colleagues. Most have now left (mostly for Germany) and have been trying to facilitate family reunification with their parents. Sometimes, I'm not sure what to say or write.  I wonder, if our situations were reversed, whether I would appreciate messages of support. All I can say is that it seems that my friends do. One friend always makes sure to reply and to ask after me and reminisce about past events.
Living under occupation
Others are always happy to share their news and updates on how their families are coping (some have relatives now living under occupation). Therefore, if you have contacts in or from Ukraine, I would urge you to stay in touch with them, ask them how they are and give them the space to share their thoughts and feelings.
As many of you will know, one of the knock-on effects for us from the situation in Ukraine is the lack of vegetable oil. Farmers here in the UK seem to have reacted by planting more oilseed rape than usual. While this is unpleasant for us hay fever sufferers, it does mean that, on a sunny day, everywhere you look you see the yellow and blue colours of Ukraine and I have taken to sharing photographs of such scenes with my contacts in lieu of repetitive messages.
Faith in a four-leaf clover
Recently, while on a walk in Northumberland, we found a four-leaf clover and this being a symbol of good luck, I decided to send an image to my contacts.  I thought I would share some of their responses with you.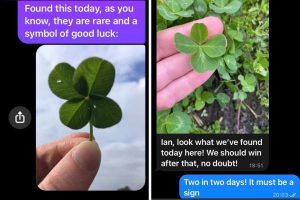 One former colleague, who took us newly-qualified teachers very much under her wing responded: 'We'll send it now to all my friends! Let it be the symbol of our rapid victory!' Later she told me that she and her friends were using it as a screensaver and, a few days after that, she wrote that she had also found a four-leaf clover.
Action Language and InterAction are starting to see Ukrainians coming through but the numbers are quite small at the moment. For me, it has been bittersweet to meet them. On the one hand, it is pleasant to see and hear Ukrainians again after a number of years but on the other, I wish I was doing it over there, sitting in the botanic gardens in Kyiv eating far too many blueberries as I was doing almost exactly nine years ago.
As has been widely reported, the visa process for Ukrainian families who have found potential hosts here has been slow and bureaucratic. One of our volunteers has spoken with a UK-based Ukrainian lawyer who can't understand how to complete the documents correctly. Another volunteer is waiting for the family they are supporting to arrive but one child's passport is out of date and so everything is up in the air. As our volunteer says '…but I am a weary wrestler with the awful, inflexible, opaque and inefficient shambles of the UK visa application process.'
Our Action Language team is working with Newcastle College and Newcastle City Learning to get as many new arrivals from Ukraine as possible into college courses before the end of the academic year. We are running an ESOL registration session here at CastleGate between 10am and 2pm this Friday (May 20). People can come for an ESOL assessment and to find out which classes they can join.