Our InterAction Drop-in is not just a place to get advice, it's also somewhere people can make friends over a cuppa and a bite to eat, a welcoming space where those new to the North East can meet others and feel less alone. In Mental Health Awareness Week we hear from one of our volunteers, Lili, from El Salvador, who says she found a new family through Action Foundation's weekly Drop-in.
---
Lili was just 19 when she had to flee her home country of El Salvador because of threats to herself and her family from gangs.
"So many people die and disappear in 2019 in my place where I lived. I was working in a bank so I was like a person who they can try and manipulate to do bad things, because I was able to look for information about clients. They tell me, 'I know your family, I know you.'"
Within a fortnight of making their decision, Lily and her father and elder sister, took a plane to Spain, sadly leaving her grandparents behind. "My grandparents are there because we didn't have enough money to bring them here with us, but we know they are safe," she says.
From Spain, they flew on to London where they claimed asylum and were dispersed to Wakefield before being moved on to Gateshead where they arrived in March 2020 just days before the first national Covid lockdown.
"It put me in a really bad situation. I was depressed. I tried to think everything would be fine but I didn't understand anything. When I came here I didn't speak any English, just 'hello' and 'thank you'."
A Spanish speaker they met in Gateshead told them about Action Foundation and the family were put in touch with Maria Figuera Rana from our Action Language team who arranged for them to receive food parcels during the lockdown and signed them up for free English classes on Zoom.
Becoming a volunteer
Lili was provided with a free tablet and a Sim card so that she and her family could access English teaching. When InterAction Drop-in reopened in July 2020, Lili was encouraged to come along.
"A guy explained there is a lot of things like clothes for us. There were other people from El Salvador there and they explain if you want to keep your mind in something different you can come here and start volunteering."
Lili was apprehensive because she had so little English, but she agreed to help on the refreshment stand at Drop-in and came up with her own solution to the language barrier by sticking post-it notes onto the tea and coffee urns and milk cartons with Spanish to English translations.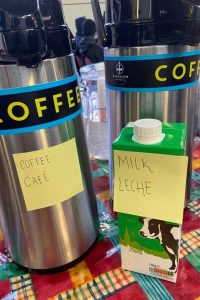 She gradually became a familiar face at Drop-in and made friends with other asylum seekers from different countries. Bit by bit her confidence grew.
"I don't know when my depression disappeared but every week I came here and I tried to learn new things and that was really helpful for me because I forget every bad thing and I start to look at the good things."
"Then Lesley (Dunn – InterAction Drop-in Coordinator) came and honestly, she's the first person who explained everything really, really carefully and I started to feel I improve my English. In my heart I feel she is my mentor because she was just like, 'You can do it, don't forget you can do it'. Each stage Lesley was there and I feel I can do it."
Last September Lili's English had improved enough for her to start a class at college – she has also gained qualifications in Food Safety and Safeguarding through her work at the Drop-in.
Then, the week before Christmas 2021 she and her family received the fantastic news that they had been granted leave to remain.
"That was a really, really big present for Christmas," Lily says.
"Our lawyer called us and said 'Congratulations! We are really happy for you. I was in shock, I feel happy, I cried because I was really, really happy.
"I made a really big cake, a traditional cake called a Tres Leches (Three Milk) cake and pupusas (a savoury dish from El Salvador)."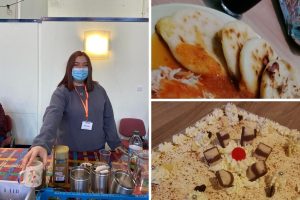 Gaining refugee status led to more changes for the family however which Drop-in staff helped Lili navigate.
"Yvonne Cheung (InterAction Project Manager) and Fouad Qamar (Project Officer) at Drop-in, they help me with the appointments for Universal Credit and with the Consulate and I receive exactly the help I needed as well as help setting up a bank account and everything. It's a really long process but they sort."
Lili admits the emotional journey from counting El Salvador as 'home' to making a new life in the UK has been very difficult, but Drop-in and Action Foundation as a whole has helped her along that path.
"In two years here I feel I have grown really, really fast. I think no one can put out my happiness because now I feel I am in home. I know I can't return to El Salvador so I put in my head a really, really hard feeling and I say, 'So OK, you have to try to put another step in your life – try to have a good life here.'"
And how has Drop-in helped?
"I feel like I am in my safe place, where I can go to anyone and say, 'Can you help me please?' Because I think that the people here are really professional. They are absolutely friendly. I know this is where I grow. I feel more confident. The staff and volunteers are like my family. We see each other just once per week, but we are like, 'How are you doing? You feel well?' Here is my family because I can trust the people – they would help me with anything."
Lili's confidence in her English has grown so much that she has now begun learning a little Arabic so she can communicate with Arabic speakers who visit the Refreshments stand. Again, her post-it notes have come in handy, though this time in Arabic!
"I know how you feel if no one can understand you and you want something but are not able to express yourself. It's a horrible feeling.
"We are here for one reason, we share this reason – problems in our countries and most problems are with the Governments and the situations, like in my country, and I know that feeling, I know what it's like, so I know we come here for find a good safe place to grow."
"It was really hard to put out my 19 years in El Salvador – my friends, my culture, my food – that was really hard. But now I feel OK. I have to be strong and just keep learning English, try to find a good job and be helpful with people."