Refugee Week 15th – 21st June is a UK-wide festival celebrating the contributions, creativity and resilience of refugees. Founded in 1998 and held every year around World Refugee Day on the 20 June, Refugee Week is also a growing global movement.
Through a programme of arts, cultural and educational events alongside media and creative campaigns, Refugee Week brings about positive encounters between communities, helping them to connect and learn from each other, and promoting a culture of welcome.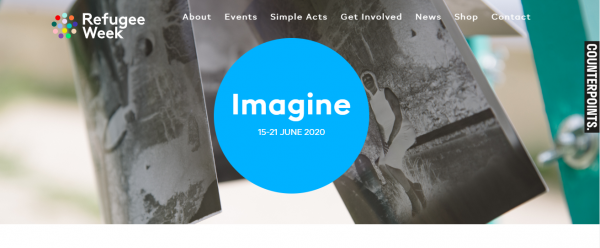 This year, due to the Coronavirus Pandemic the festival has moved online, but there is still an impressive programme of events you can access via the Refugee Week Website, as well as Eight Simple Acts that you can easily do from home. The theme for 2020 is Imagine, which is definitely bringing an extra level of creativity to proceedings.
Newcastle resident, Asylum Seeker and friend of Action Foundation MD is one of the official ambassadors for Refugee Week and has recorded this video for us explaining more:
Action Foundation will be bringing you Refugee Week content every day including the tasty opportunity to cook some Iranian food with Jonah, the chance to join in with an exhilarating distance challenge and a story from a local refugee whose resilience is extraordinary.
We also wanted to take this opportunity to share Refugee Week activities in Sunderland, where local refugee organisation FODI have a fantastic programme of events that you can get involved with too. Just check out their website for more: http://fodisunderland.org/
Enjoy Refugee Week everyone – it really is a fantastic celebration!