Just Love Newcastle are raising money for Action Foundation by running, walking and cycling 2,700 miles across three weeks, representing a common journey travelled by refugees from Damascus to London.
We caught up with Mary from the energetic student team to find out more…
---
Hello! My name is Mary and I am currently just finishing my first year at Northumbria University studying social work. I am the personal coordinator for Just Love Newcastle which involves organising events and helping to engage students with ways to live more ethical lives as well as social justice issues on a personal level.
So who is Just Love? 
Just Love is a christian, student led social justice group with groups at universities across the country. We seek to empower students to live more ethical lives and be active in engaging with social justice issues; both locally in their own cities and communities, as well as on a much wider global scale. As a group we organise fundraising campaigns, volunteering opportunities with local charities and outreach opportunities, as well as running small student events known as 'Just Lunches', which help us come together as a community more personally to discuss a particular issue.
Why have we chosen to work alongside Action Foundation? 
As a Just Love group we have been running for just over a year, we wanted to focus our campaign on a local level, championing and supporting smaller charities who are in need, particularly during these difficult times due to coronavirus. I am a member of City Church in Newcastle, and was already aware of the brilliant work of Action Foundation. I suggested to my peers that raising awareness for the refugee and asylum seeking communities in our city, and this local charity who do incredible work to support them would also be a great local connection to establish. Not only this, but we became very aware of how there was such limited media coverage surrounding the challenges faced by the refugee and asylum seeking communities, particularly how they are affected by the coronavirus and lockdown. Making the need for raising awareness more important than ever!
Newcastle is recognised as a City of Sanctuary for refugees and has been welcoming refugees to the city for many years. Through seeing the covid crisis appeal launched by Action we felt compelled to do something more, not just for the charity but to raise awareness of this as a local, national and global social justice issue and human rights issue.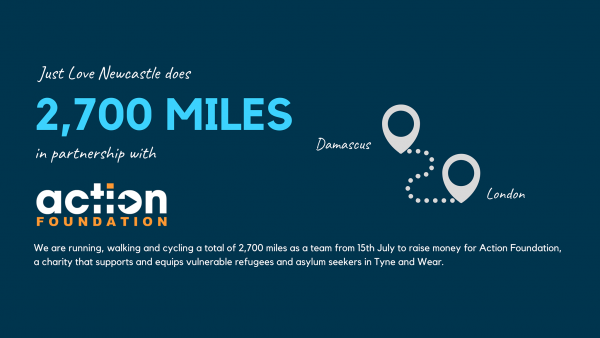 We wanted to GO BIG, for our campaign… which brings us to the 2,700 miles in three weeks challenge, gulp, are we crazy? Maybe just a little! We will be spending the next three weeks as of today, running, walking or cycling as a collective group to reach the target of 2,700 miles. This distance holds great significance, it is the average journey length of a refugee travelling from Damascus in Syria to London in the UK. It is merely the first stage of their long journey as a refugee or asylum seeker. Which begins fully when they reach UK soil, which is then where the vital work of charities such as Action comes in.
We wanted to honour this journey, recognising that although we will never truly understand the great lengths, traumas, prejudices, heartache and pain faced by those who travel to the UK as a refugee or to claim asylum; we hope that as a community of students seeking to pursue a more just society and world, that this will be a small drop in the ocean in raising awareness for those who face extreme marginalisation and social exclusion by both the government and wider society.
As reflected in current events, more so than ever before we are becoming increasingly aware of the importance of recognising and taking ownership for our own privileges. This is why doing all we can both personally and collectively to seek justice and equality for marginalised groups on local, national and global levels is more vital than ever before.
We hope you enjoy keeping updated with our crazy challenge, please feel free join us at whatever point during the three weeks!
How to take part
We want to get as many people involved as we can! All miles contributed towards the target distance will be recorded on Strava, so download the app and join our 'club'. Search 'JL Newcastle – 2700 miles for refugees' or follow this link: https://www.strava.com/clubs/JLNCL2700
If you are a FitBit user, you can sync your device to a Strava account here: https://strava.fitbit.com/
We aim to complete the challenge within 3 weeks (before 5th July).
This is a HUGE challenge and we would love as many people involved as we can! Don't feel you need to run a marathon or go full-on Tour de France, you could just record your daily dog walk or bike ride to work – every mile helps! Or maybe you're feeling competitive… which would be amazing! Perhaps you could pledge a certain weekly distance to cover, and ask people to sponsor you for that, or encourage people to donate £1 per mile? Challenge yourself!
Fundraising page here: https://www.goldengiving.com/fundraising/JLNCL2700