We were delighted to welcome Jamie Driscoll, Mayor of the North of Tyne Combined Authority (NTCA), to our InterAction Drop-in on Thursday.
He met our Chief Executive Duncan McAuley and was particularly interested to hear about the work Action Foundation is doing to help digitally excluded refugees and asylum seekers, a substantial part of which has been funded through NTCA.
Mayor Driscoll spoke to the staff and volunteers who deliver our Digital Inclusion project, including father-of-three Fouad Qamar, who became a volunteer after benefiting from the project himself.
Fouad, a 40-year-old refugee who sought asylum in the UK three years ago after being stateless in Kuwait, was one of the first to benefit from the Digital Inclusion project when it began a year ago. Fouad received a tablet and digital training which he has since been able to pass on to others in his volunteering role.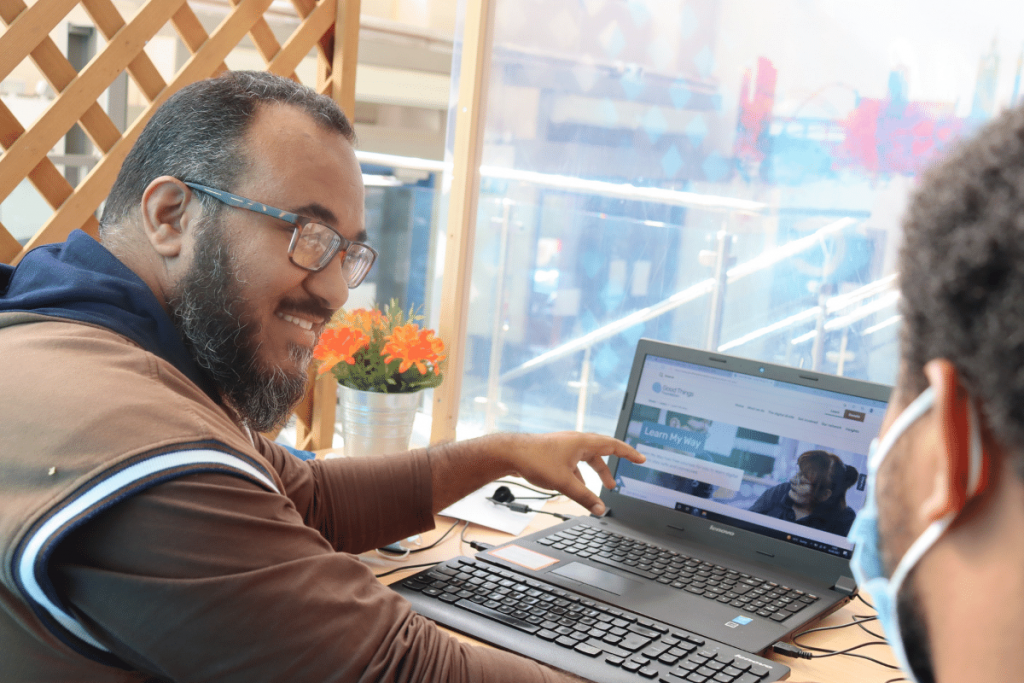 "Receiving a tablet helped my mental health. I got it during lockdown and it helped me complete the sessions with my therapist. I was having weekly sessions for my depression. Every week I could have sessions because I had internet."

"I was forced to shield because I am diabetic and my son has sickle cell anaemia and had to have blood transfusions every three weeks. It was a difficult time, not going outside the house. Dark times. We were living in a one bedroom flat so the tablet helped us communicate with our family in Kuwait. We do video calls and my boy sometimes uses the tablet to learn or play some games."
Becoming a volunteer during the pandemic he said, 'kept me sane'. Fouad was able to help other Arabic speakers on the Digital Inclusion Project by explaining things in their own language and it has helped his depression by making him appreciate the positives in his life. "Sometimes when I face client issues, hard issues, I think to myself, 'I am in a good situation.'"
So far around 300 people in the North of Tyne area have benefited from digital training sessions – 80 per cent of whom had no laptop or tablet.
Our CEO, Duncan, said:
"It was fantastic to have Mayor Driscoll here to visit our InterAction drop in and to be able to tell him about the significant impact our Digital Inclusion Project is having for our beneficiaries. Ninety nine per cent of the people who've received training on their devices fed back to us that they've learnt useful skills and knowledge and are now more confident using the internet.

"We know that digital exclusion impacts on people's access to healthcare, to their education and lifelong learning and to their social participation and community life. The pandemic has made digital inclusion more important than ever. And the challenge now is not simply around 'getting online' but how we can ensure that everyone has the essential access, skills and confidence they need to live well and safely in the digital world."
Mayor Driscoll added:
"Having the kit and skills to get online is essential for everyone these days.  During the pandemic, things that were once done face-to-face went online almost overnight.

"At the North of Tyne, we helped schoolkids, people in care homes, and unemployed residents get online.  We gave them tablets and skills so they could continue their education, keep in touch with their families, and apply for jobs.  Asylum seekers and refugees often have an even greater challenge with limited English language skills.  We all know how difficult it can be to follow IT instructions sometimes – imagine doing that in a foreign language!

"So the North of Tyne stepped up to the challenge with our partners, Action Foundation.  We funded a ground-breaking Digital Inclusion programme.  Now, people get basic kit (often recycled), tuition around basic digital skills, and a data connection – but with someone who speaks their language and understands their problems.  It's helping people find work, learn English online, and keep in touch with loved ones.

"I was able to see for myself the brilliant job Action Foundation is doing when I visited and spoke with staff and users of the programme.  Best of all, many of the programme's users go on to become volunteers and help other people in need.  There is such generosity.  It's making a real difference to people's lives, giving them a chance to flourish in their new country and put down roots here."
Visit our Digital Inclusion project page for more information