Are you a fan of The Great British Bake Off?
Then we've got the perfect fundraiser for you! Welcome to #GAFB – or the Great Action Foundation Bake!
If you're an aspiring Paul or Prue, you can get one step closer to Star Baker status by throwing an Action Foundation bake sale to support refugees and asylum seekers across Tyne and Wear.
All you have to do is ask your colleagues and/or friends to bring a bake and charge £1 a slice – it really is as easy as pie!  
Talking of pie – here's some inspo for your bake sale in the form of our favourite Lemon Meringue Pie recipe. Why not give it a whirl?
We'd love to see any photographs you take of your bakes, so please tag us in to any social media posts you do or simply send us your pictures on email to: [email protected]
Ready, steady, BAKE!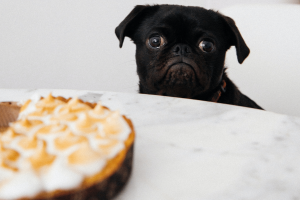 Lemon Meringue Pie
You will need a 9-inch (23cm) round, 1.5 inches (4cm) deep, ceramic tart dish.
Pre-heat your oven to 190c or 170c fan/Gas 5
Ingredients for pie base: 
3oz (75g) unsalted butter
25g (1oz) demerara sugar
6oz (175g) Digestive biscuits
Ingredients for filling: 
1 can of condensed milk (394g, sweetened and full fat)
3 egg yolks
finely grated zest & juice of 2 lemons
Ingredients for topping:
3 egg whites
6oz (175g) caster sugar
Method
Start by melting the butter in a saucepan, then take the pan off the heat and stir in the sugar and crushed digestive biscuits (you can either crush these in a food processor or put the biscuits into a freezer bag and use a rolling pin to bash them). Use a spoon to press the mixture into a flan dish, making sure you bring the biscuit up around the sides of the dish and that you create a smooth base.
Next up, the filling. Mix the condensed milk (make sure it's full fat or the filling won't set) with the egg yolks, lemon zest and juice. Pour the mixture into your dish.
Put the egg whites into a large, grease-free bowl,  whisk the egg whites into soft peaks, start adding the sugar, one teaspoon at a time, whisking on full power. Spoon the meringue on top of your pie filling then spread with the back of a spoon to the edges. For a final flourish, peak up the surface then bake for 15-20 minutes until your meringue is a pale gold colour.
Remove from the oven and leave on one side to cool for half an hour so that the filling firms up. Serve warm.