In October 2018 the UK government announced a strategy to tackle loneliness in England, along with dedicated funding to help communities build stronger connections and alleviate loneliness. Action Foundation's successful bids through the Building Connections Fund and Refugee Action's Early Action Partnership has enabled the charity to open two new Drop-ins for asylum seekers, refugees and migrants in Newcastle called interAction Drop-in. The project is being led by our newly appointed Drop-in Manager, Kate Townsend and Drop-in Coordinator, Tolosa Tadesse.
Our interAction Drop-ins will be open every Tuesday between 12 noon -2pm at CastleGate at City Church and every Thursday between 12 noon – 2pm at West End Library.
A preview launch was held at the West End Library on Thursday 9th May attending by over 30 representatives from key organisations working with asylum seekers and refugees in our city. Attendees heard from a variety of speakers including Julian Prior, CEO of Action Foundation, Lora Evans Early Action Project Manager at Refugee Action, Jenny Hartley, Local Authority Asylum Seeker Liaison Officer (LAASLO), Julie Fernyhough, CEO of J.E.T. as well as Kate Townsend and Tolosa Tadesse. They outlined the need for such a drop-in and how the entire city would benefit from the project. Our thanks to all of our speakers and supporters and to the Samosa Sisters for providing a delicious hot lunch.
Lesley Gair from Crisis attended the preview launch and said: "Such a great idea! Sounds like a great gateway point. The Drop-in will provide a really meaningful referral route into specialist support."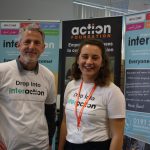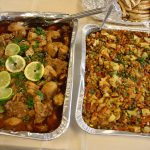 Jenny Hartley, LAASLO at Newcastle City Council described the new service as "a central point where clients can meet lots of different services and people from the same culture as them. It is also useful to refer to other agencies there and then."
Building meaningful connections between people and organisations, reducing the stigma around loneliness and tailoring approaches to individuals and groups is all part of the Drop-in ethos. In addition, it is hoped that the Drop-in will engender a sense of trust and a feeling of belonging in the local area which is equally important to the wellbeing and happiness of service users.
Quote from a learner/resident: "I live near the West End Library and I am excited about the Drop-in opening near me where I can meet others, make friends and have a place to go each week where I can relax".
This past year has proved to be quite divisive with the uncertainties of Brexit, the Windrush scandal and the hostile environment* created in our society, which is why at Action Foundation we provide opportunities for asylum seekers, refugees and other migrants to lead lives that are safe, independent and fulfilled. We do this through our supported accommodation, free English language and employment classes and would not be able to do all that we do without the support of volunteers, regular donors and supporters.
How can you get involved?
InterAction Drop-in Manager, Kate Townsend, explains more: "There are three ways that you can get involved in our drop-ins. Firstly, spread the word! We want out drop-ins to provide a warm, welcoming environment for anyone who is an asylum seeker or refugee. Secondly, we are looking forward to partnering with other organisations across the city to provide advice and details of their services at the drop-ins. If you'd like to come along and share information about your service, please do get in touch. Thirdly, we're looking for volunteers to help run our drop-ins. If you're friendly, enthusiastic and want to help out, we'd love to have you on board!"
To find out more about our Drop-ins and the volunteering opportunities please contact Kate Townsend, interAction Drop-in Manager at [email protected] on 0191 231 3548 or visit www.actionfoundation.org.uk