Our newest recruit, Abi Walker, tells us a bit more about herself. Born in Middlesbrough, Abi moved to Newcastle for university and fell in love with the City! She spent the last two years as a Bid Writer for Women's Services at Changing Lives, securing grants for projects across the North and Midlands supporting people with experience of Domestic Abuse, sex work / sexual exploitation and the Criminal Justice System. She also has two years' experience working in Communications for the Labour Party.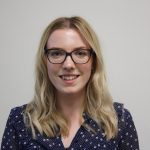 Ready for a fresh challenge, Abi has recently secured a position working for Action as our Fundraising and Grants Officer. "I'm so happy to be starting such an exciting and varied role with Action Foundation, an organisation with an amazing reputation throughout the North East!"
An avid reader and English Literature graduate, Abi is keen to work for an organisation which advocates for the strength of words and the gift of language. "I really believe that the ability to communicate through words can empower and bring people together"
Often found with her head in a book, Abi's favourite reads are Gulliver's Travels, A Little Life and Kafka On The Shore – quite the mixed bag. When she's not at work or reading, Abi can usually be found sampling Newcastle's culinary delights with her partner… much to the distaste of her bank balance.