We're delighted to announce that after a four month break due to the Covid-19 Pandemic, our InterAction Drop-ins will be starting up again on Tuesday 28th July.
InterAction Manager Kate Townsend has been working really hard with her team to get things ready and took a break to tell us: "Preparations are going really well, we have set up the hall, ordered all the extra supplies needed, and we're running volunteer training this week for our team."
"We're really excited to be opening our doors once again and welcoming people in – nothing quite beats a face-to-face conversation! Of course, we don't want anybody to worry for their own health and safety, so we are taking all precautions to ensure everybody stays safe.
Drop-in Details
When? Tuesdays & Thursdays 10am – 2pm
Where? in The Turbine Hall at Castle Gate, Melbourne Street, Newcastle NE1 2JQ
What will be available?
15 clients will be admitted at a time to access refreshments, advice + support
12 staff & volunteers
We'll be using screens
Masks will need to be worn
Haircuts will be available
Local agencies attending – Red Cross
Outdoor fun!
And because we can't offer much in the way of games and fun at the Castle Gate sessions, from the 5th August the team will be spending Wednesday afternoons from 2-4pm outdoors at the park – 4 groups of six people will be able to have some socially distanced fun – socialising, practising English and games/activities.
For more information about these sessions please get in touch
Email: [email protected]
Text, WhatsApp or Call: 07826 266 630
We need toiletries!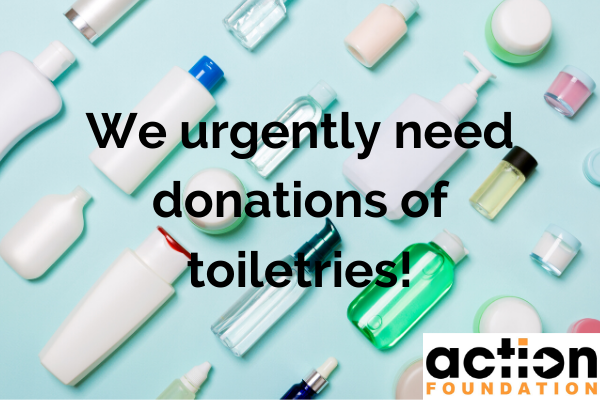 The people we support are surviving on very small amounts of money, and often cannot afford basic provisions. Can you help us by donating any of the following items?
shower gel
soap
shampoo
deodorant
sanitary items
toothpaste
nappies (any size)
baby wipes
moisturiser
shaving foam
disposable razors
Please drop donations off at Castle Gate between 10am – 12pm on Wednesdays or call 07826 266 630
Thank You!