Following on from the success of our first ever Paperchain People challenge last year, we're encouraging schools, community groups and individuals to once again send a seasonal message of welcome and solidarity to people seeking sanctuary in the North East. Here's Newcastle University MA student and writer Sarah Storer to explain how it all works – it's a completely free, fun activity and we'd love as many people as possible to get on-board and demonstrate what a welcoming region we are!
---
Our Paperchain People challenge is BACK and the theme this year is the Gift of Words to tie in with our Christmas Appeal.
This creative and fun activity will help spread the message about Action Foundation's Gift of Words Appeal, which is raising funds for our fantastic Action Language English teaching classes,  as well as showing just how welcoming a region we are here in the North East!
For many refugees a new start in a new country can be even more isolating if you cannot speak the language but we provide free English lessons for those that need them, helping people just like Iraqi refugee, Athab to achieve a positive start to a new life in Tyne and Wear.
Early entrants in this year's Paperchain People challenge include Newcastle United Foundation, who are making Paperchain People with their ESOL classes at Newcastle College. Wingrove Primary; St John's Primary; Bridgewater Community Primary and Riverside Schools, all in Newcastle, have also signed up. We can't WAIT to see their designs!
YOU can show the refugees and asylum seekers in your area that YOU care this Christmas by taking part in our fun social media challenge, designing your own set of Paperchain People, displaying them in your windows and sharing photographs of them on social media. Make sure to tag us @actionfdn and use the hashtag #PaperchainPeople! You could even decorate your Paperchain People with welcoming messages in as many languages as possible!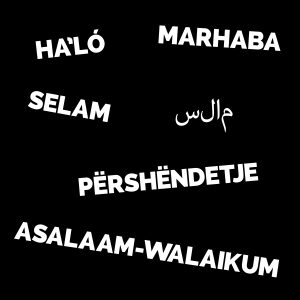 It's super simple, all you need to do is download and print out our template. Action Foundation's Fundraising Officer, Abi,  has also created a handy  TikTok 'how to'  below which walks you through making your Paperchain People.
Finally, don't forget to tell your friends, family and neighbours – it's such an easy way to spread a welcoming message this Christmas! And if you need more information, just contact Sarah Storer on email: [email protected]