This Christmas we're raising money for our free Action Language school, giving the Gift of Words to refugees and asylum seekers in Tyne and Wear. We spoke to one of our learners, Athab, a new dad who is looking forward to being able to read bedtime stories to his baby daughter in English.
---
Athab was just ten when his home country, Iraq, was invaded and plunged into instability that still lasts to this day. Two years ago he finally fled the war-torn city of Fallujah to seek sanctuary in the UK and is eagerly learning English thanks to our Action Language project.
Every Thursday he attends Action Foundation's free community English language class in Benwell, Newcastle-upon-Tyne.
Job hopes
Athab and his partner Aziza have recently had a baby daughter,  two-month-old, Mila, and although Athab is still awaiting the outcome of his asylum application and cannot legally work, he is keen to have a good enough standard of English so that when he does gain refugee status, he'll be able to get a job and support his family.
Athab's class is based at West End Library in Condercum Road, Benwell. Our charity also runs in-person English language classes at the East End Library in Shields Road, Byker; from the Edmundson Building in Sunderland and from the charity's main office at CastleGate in Newcastle city centre. And since the start of the pandemic, when teaching switched online, many students continue to learn on Zoom. They're provided by our staff and 90 volunteer teachers and classroom assistants.
Athab said: "When I came in UK, I don't have any word in English, I don't know how to say my name! I didn't finish my high school. In my country from 2003 we had problem so our school not teach properly. I not study properly there.
"When I came here it's hard for me because when you go to a new place and you don't speak the language you have big problem.

I have problem to go shopping because I don't speak English. I can't make appointment with doctor. With Home Office, I don't know what the translator is saying in English but if I have English myself I can say exactly what I need to say."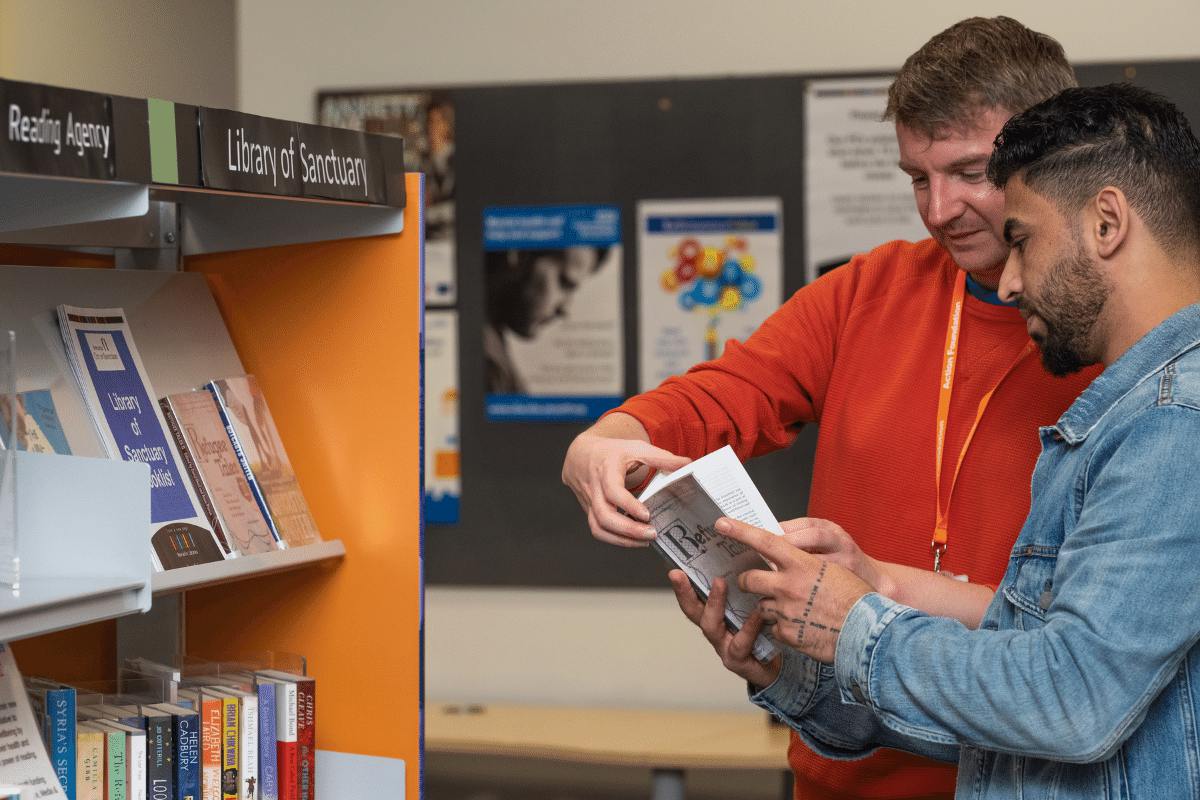 Athab's, girlfriend, Aziza, found out about Action Foundation and suggested he enrol for English classes with our Action Language project and he's been learning with us since September.
"This make me more comfortable about my English language and it is easy to learn with you as well," he said.
"It make me happy and I appreciate this because Action Foundation help me with this and everyone here is very friendly to me. I also learn about English culture and history. I like to know everything about celebrations and traditions. I am interested."
Nicola Brooks, Project Manager for Action Language, said she was really pleased that weekly classes in Newcastle Libraries were going ahead this year, as they help learners who can't manage to come to the city centre and enable the charity to reach more people in their own communities.
"Our learners are fantastic and show us every day how keen they are to study, whether that's by travelling in to classes by bus or metro, or attending Zoom lessons whilst looking after small children, or just coming to class in all weathers, even when they don't have warm clothes or a way of drying what they have when they get home. Learning English is so important to them, and we're so grateful to those who help to make it happen by donating time and money to support the language classes."
Meanwhile Athab is growing so confident in his English speaking ability that he has just signed up for a library card and is looking forward to being able to borrow children's books to read to his daughter.
The West End Library, like all of Newcastle City Council's libraries, is a 'Library of Sanctuary' which means it works hard to help recently arrived refugees integrate into the community. It was the first public library service in the North East to achieve the title in June 2021.
Throughout the run-up to Christmas, we're raising money for our Gift of Words Appeal and your donations will enable us to keep this vital project running. Please consider giving the Gift of Words to help more people like Athab start their new lives here in the North East. You can donate here.