As part of our Gift of Words Appeal, which is raising money for our Action Language project, supporter, Viv Harrison, has crafted this beautiful contemporary quilt, which you have an opportunity to win in a raffle being drawn on December 13. We caught up with her to find out how the 'Amazing Technicolor Dream Quilt' came about.
---
Viv Harrison has always been creative but her passion for quilting didn't materialise until later life.
"I've always liked making things and doing arty stuff, " she says.
"When I was a child my mum and sister were both really good at sewing and because they were so good, it kind of put me off so I never really got into sewing until I was older.
"My husband John and I had this cottage in Scotland (the couple lived in Tayside before moving to Tyneside six years ago) and I thought,  'This just needs a patchwork quilt.'
"When I told my mother I was going to make one she said, 'Do you not think you should start with something easier?'"
"Well that was it, I thought, 'I'll show you!' I got a book out of the library called 1001 Patchwork Designs and I ended up really getting into the whole American pioneer thing.
"Quilting is such an interesting thing to do. A quilt tells a story, it keeps you warm, it's practical, it can be an heirloom."
Three years before Viv moved to Newcastle, she completed a City and Guilds qualification in Creative Techniques and Textiles at Dundee College. But after moving to Newcastle she became busy, first with volunteering and then work, and found she didn't have so much time to devote to her sewing.
Viv really understands the importance of English language teaching for refugees and asylum seekers and the need for our Gift Of Words Appeal, which is raising money for our free English classes, as she used to work with one of our fellow charities, JET (Jobs, Education and Training North) which helps people seeking sanctuary find work and improve their communication skills and employment prospects.
"At JET I helped teach English and I loved chatting to the women, encouraging them. I built up personal relationships with refugees there. Up until then I had never met a refugee or asylum seeker. I found it heart breaking in a lot of cases, but so rewarding."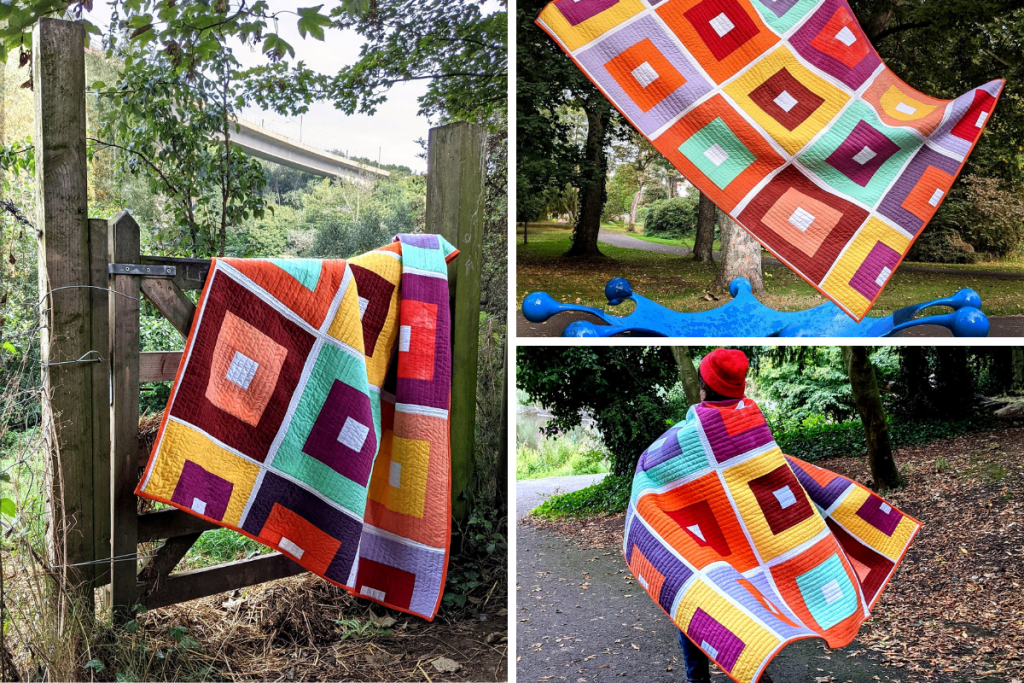 Viv, who has three children, actually went on to study for a CELTA – qualifying her to teach English as a second language although she now works in administration.
She says: "It's so important for asylum seekers  to have access to learn English to convey their needs and situations. Imagine not being able to contact a doctor or school or housing – how frustrating and depressing that could be."
The Action Foundation quilt came into being as a result of Viv's work with refugees and also her involvement in City Church, Newcastle.
"At one of the services, one of the pastors suggested we try and use any skills we might have to make a difference and I just felt that my heart is with refugee people. I thought about what my skills were and what I could do.

"Really I wish I could make a quilt for every single asylum seeker but since I can't, I thought this raffle would be a great way to help."
The quilt became a lockdown project and at 70 x 52 inches, it is large scale and absolutely stunning. Viv has also enjoyed making it as it's brought her back to the 'crafty' side of her nature.
"At college, my lecturer used to try to steer me away from craft and more towards art, but I think I've come back to what I like – cosy, warm quilts!" she laughs.
Certainly Viv's mum and sister would be impressed by Viv's patchwork.  "I think they'd be quite pleased and delighted the quilt is going to Action Foundation's Christmas Gift of Words appeal too," Viv says.
The raffle for Viv's quilt will be drawn at 5pm on Monday December 13 with all proceeds going to our Gift of Words Appeal, which is supporting our free English classes for asylum seekers and refugees.To enter, just text QUILT to 70215. Tickets cost £1 (plus your standard network rate) and you'll be asked how many tickets you'd like to buy.