Action Foundation's team of 15 runners have done us proud. Not only have they completed the challenging 13.1-mile route that this year took them over the iconic Tyne Bridge not once, but twice, they've also smashed through their target to raise more than £6,700.
The donations are still coming in so please do check out the Team Page and make a donation if you haven't already done so and would like to.
Breakfast Bonanza
Fundraising Officer, Abi Walker, had roped all her friends into taking part this year – so it was only fair that she hosted a pre-run breakfast feast for them all!
Kicking things off at 8am, there was enough porridge and Lucozade to keep the gang going all day.
Then with a COVID-safe staggered start, our runners made their way to the start line at Town Moor between 10am and 12pm.
The Route
From there, they made their way along the brand-new route. There were 57,000 people running the 40th birthday event this year. While the route normally takes runners on a journey from Newcastle to South Shields, this year the route changed to a loop which started and finished at the Town Moor. While there were mixed feelings about a new route, everyone was glad to see the iconic run back on our calendars.
Although we were expecting things to seem a bit different, that electric Great North Run atmosphere stayed the same. With fancy dress, live music, the welcome return of the Red Arrows and a great crowd – in many ways, it felt the same as it always does!
Although four-time Olympic Gold medallist, Mo Farah, didn't take part this year. Andy Burnham, 'King of the North' and Action Foundation favourite, donned the number one vest as he completed the course in an impressive time of one hour and 55 minutes. Go Andy!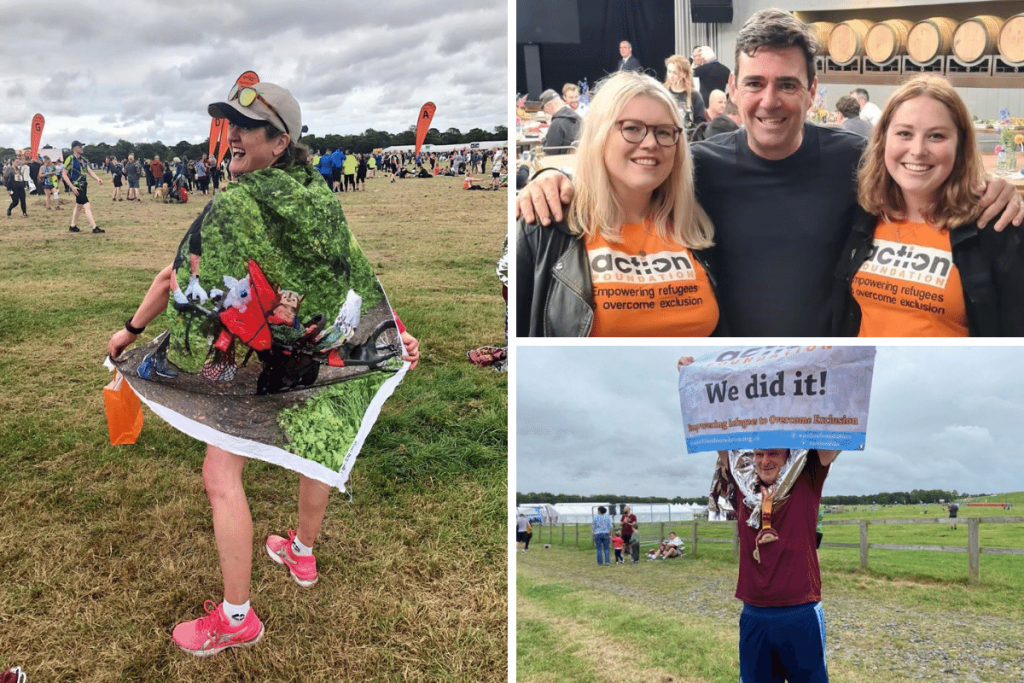 After the run, two of our Action Foundation volunteers, Katie and Anya, caught up with Andy, who gladly posed for a picture. Anya said: "We told him all about Action Foundation and he was really impressed with the work that's going on here to help refugees and asylum seekers."
At The Finish Line
The Action Foundation cheer squad was waiting at the finish line with celebrations, hugs and goodies for our runners. We put together goody bags complete with some gratefully received donations from The Body Shop in Eldon Square.
Back at the picnic rug first was Dan McLaughlin who ran the route in a very respectable one hour 48 minutes.
"The atmosphere was just amazing," said Dan. "I couldn't have run as well as I did without the people cheering me on. Action Foundation's work with refugees and asylum seekers is so inspiring that it was a privilege to run for them."
Three of Action Foundation's own staff took part in the run this year. They were, Celia Bouch from our InterAction team; Maria Figueira from Action Language and Head of Fundraising, Dave Bowditch.
Dave said of the day:
"It was great to be part of the 40th GNR – particularly after such a challenging 18 months. And what an amazing day it was, although I felt exhausted by the end (I blame the hilly (modified) course!). There was a real buzz in the air, the support and organisation were brilliant, and it was lovely to be running as part of team Action Foundation. Well done everyone and thanks to those who have sponsored us so generously!"
Fundraising and Grants Officer, Abi, has been looking after the team of runners again this year. She said: "After a year without, it was amazing to experience the atmosphere of the Great North Run once more! I'm so proud of our talented team for finishing a half marathon AND raising a colossal amount of money for Action Foundation. I know that they've all been training so hard and it's definitely paid off!"
Thanks so much to our amazing team of runners and to everyone who sponsored them. We couldn't run our vital support services for refugees and asylum seekers without people like YOU.