Action Foundation's team of 15 brave and mighty runners for this year's Great North Run have done the charity proud by not only completing the gruelling half marathon course on Sunday, but also by raising a whopping £4,600 – amazing!
That fundraising total is still on the rise, so check the team's page for more updates, but we wanted to thank our fantastic group of athletes for putting in such an impressive performance and also share with you some of the highlights.
Breakfast Party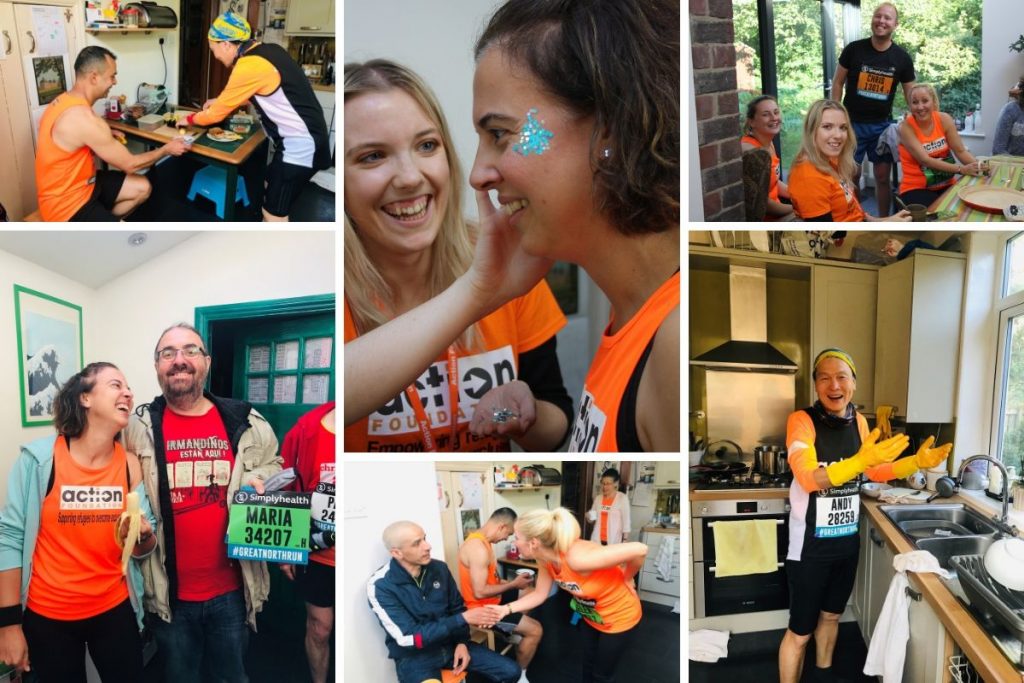 The day itself kicked off for our runners with a super fun and delicious breakfast put on in Newcastle by Andy and Mabel, who not only participate in Action Hosting, but also volunteer with Action Language. Oh yes and Andy was also running for us. Basically they're legends.
They opened their doors to the team at 8:15 and the excitement was palpable as everyone gathered over a feast of sustaining porridge, toast, bacon and eggs. It was coffee and tea all round while everyone chatted and shared stories of training. There were a few nerves in anticipation of the big run, but it was impossible not to feel in the party mood among this group of warm people.
There was time for plenty of photos and silly videos, as well as some of our runners to be adorned with a spot of glitter for that festival vibe before they headed off to the start line for the all-important warm-up.
On the run
From there the runners each made their own journey along the tough course, swept along by the incredible atmosphere of live music, fancy dress and a never-ending stream of supporters handing out sweets and ice-pops to keep the runners energized. If ever the heart of the North East is on display, it's on the day of the Great North Run.
There were estimated to be about 55,000 runners taking part in this year's Great North Run which stretches from Newcastle to South Shields. Sir Mo Farah won a record sixth successive victory by winning the elite men's race in 59 minutes and seven seconds. While Brigid Kosgei, beat the women's course record with a time of 64 minutes and 28 seconds.
At the finish line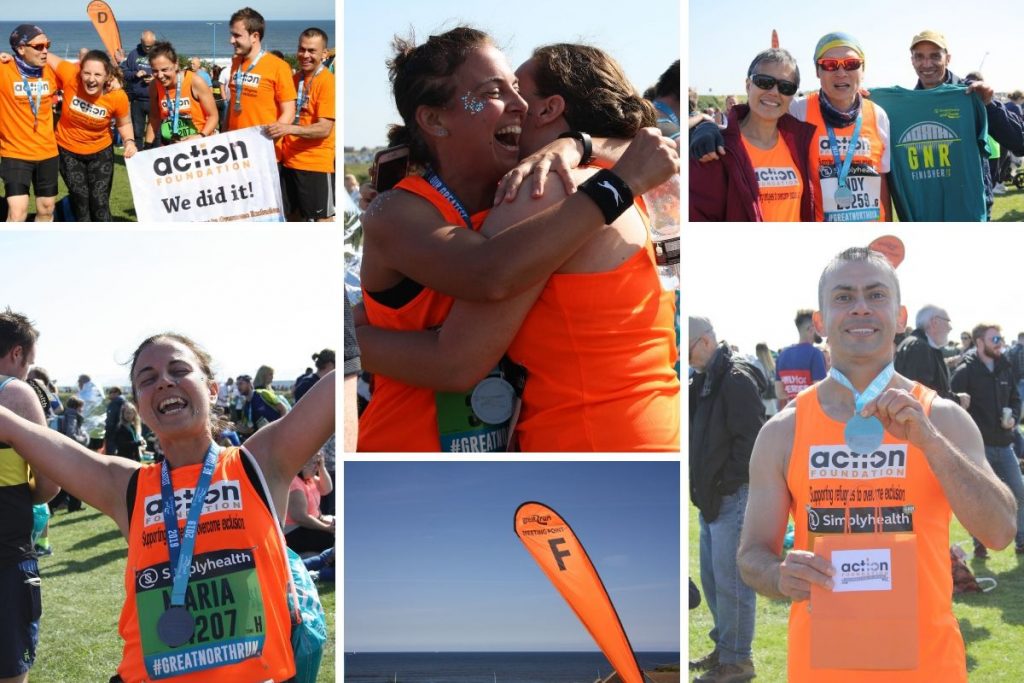 The partying continued at the finish line, where the Action Foundation support team were waiting ready with hugs, high fives, snacks and goody bags for our valiant runners. The first back was Carlos who works at City Church, with an impressive time of 1 hour 37 minutes and then one by one the rest of the team found us amidst the craziness that was the end of the race and shared the stories of their own personal 13.1 miles.
Andy followed, along with Curtis and then it was time to welcome Action Language's Maria Figueira and InterAction's Kate Townsend. Action Foundation hosts Helen and Chris joined us at the finish, along with Jane, Rachel and Francesca. What a team!
Mile 11 was unanimously judged to be the hardest point of the run, the bit where you're so close yet so far away from the finish line.  But everyone dug deep and made it to the shores of South Shields. We couldn't be prouder of them.
Action Foundation's Fundraising and Grants Officer Abi Walker has been looking after the team of runners and said: "What a fantastic day cheering on the team and just taking in the atmosphere of the Great North Run! It's been great getting to know our runners over the last few months and seeing all their hard work pay off on the big day. I feel very lucky to play a part in this kind and compassionate community."
You can still donate to Team Action Foundation here