In the run up to Christmas, our Action Language learners have been practising their English by writing letters to their families back home and sharing welcoming notes with fellow asylum seekers and refugees.
So touching are the sentiments expressed in them, that they've moved some of our teachers to tears. One member of the team commented:
"One guy from North Africa is writing a letter in English to his mum, he wants to show how much he can write in English, it's made us all a bit teary-eyed here."
Some of the messages offered by our learners to other people seeking sanctuary in Tyne and Wear offer words of inspiration, such as: 'Don't lose hope' and 'You deserve to be happy', whilst others give gentle reassurance about their new country: 'The UK is a safe place to live and this country has good and lovely people' and 'England is the best country for you'.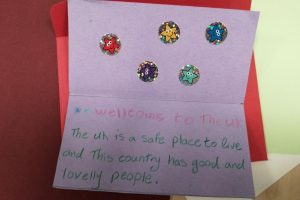 Top tips
There are top tips too, generally in relation to the British climate. 'You always need an umbrella in England!' made us chuckle as did, 'I hope everything is OK for you in the UK. The weather is cold and raining. I am happy to be in an English class.'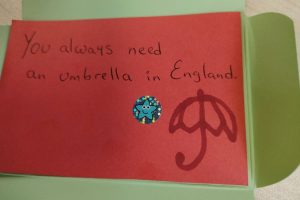 Staff member Sue Dickson, who oversees our Sunderland classroom said the seasonal messages had been a wonderful teaching opportunity.
"We talked about the kind of goodwill messages we send at Christmas and around festival times. The languages spoken by our learners are Tigrinia, (Ethiopia), Yoruba (Nigeria), Portuguese, Spanish and French (Congo).
"My students wrote a special message to each other in their own language and inserted them into butterfly envelopes. We put them in a hat with a few extras and they each pulled an envelope out. The person who had written it then explained the message and read it out.
"It was very special as the sentiments of good health and goodwill and cultural exchange were felt by all. It was lovely to hear and see the languages and for the students to share this."
Nicola Brooks, Project Manager for Action Language, added: "Some of the learners are gifting them to friends in class or taking them home to give to others there, but some have left theirs for us to pass on to new arrivals in initial asylum accommodation in the area."
During 2020/21 we had 76 different nationalities come and learn with us and our staff and 90 volunteer teachers and classroom assistants taught a total of 697 students.
Our Gift of Words Appeal this year is in support of our Action Language school. If you'd like to donate, please follow the link here.