Reading is such a fantastic way to step into someone else's shoes. This World Book Day we asked our staff to recommend a book they've read on migration, either fiction or non-fiction. Why not put some on your own reading list?
---
The Optician of Lampedusa by Emma Jane Kirby
(Recommended by Action Language project manager, Nicola Brooks)
In this short book, broadcast journalist Emma Jane Kirby brings to life the tragedy of what has become an all-too familiar news story: the drowning of people crossing the Mediterranean in search of a better life. It puts a human face on those people seeking sanctuary who are often depicted as nothing more than statistics.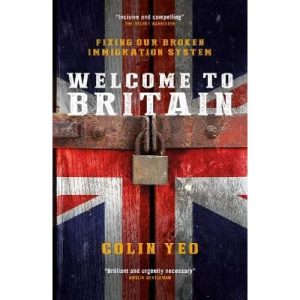 Welcome to Britain by Colin Yeo
(Recommended by our CEO Duncan McAuley)
How would we treat Paddington Bear if he came to the UK today? Perhaps he would be made destitute as a result of extortionate visa application fees; perhaps he would experience a cruel term of imprisonment in a detention centre; or perhaps his entire identity would be torn apart at the hands of a hostile environment that seems to delight in the humiliation of its victims. Campaigner and immigration barrister Colin Yeo looks at the imperfections of our asylum system with dexterity and rigour, offering a roadmap of where we should go from here. (Top tip – it's out in paperback later this month!)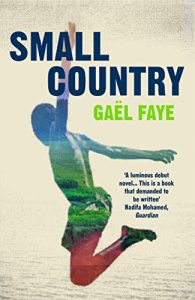 Small Country by Gaël Faye
(Recommended by Fundraising and Grants Officer, Abi Walker)
Gaël Faye, a French-Rwandan rapper penned this alarming first novel, a prize-winner on its original publication in France, which draws on his experience of being a schoolboy in Burundi as conflict broke out in the 1990s. The Guardian called it a 'sharp shock of a novel' in which Faye implies that, amid terrifying social breakdown, innocence isn't easily claimed.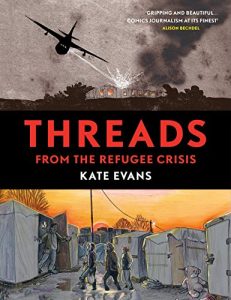 Threads: From the Refugee Crisis by Kate Evans
(Recommended by Action Language Administrator, Maria Figueira Rana)
In the French port town of Calais, the historic home of the lace industry, a city within a city has arisen. The Jungle, is home to thousands of refugees, mainly from the Middle East and Africa, all hoping to get to the UK. Into this squalid shanty town of shipping containers and tents, full of rats and trash and devoid of toilets and safety, the artist Kate Evans brought a sketchbook and an open mind. Combining the techniques of eyewitness reportage with the medium of comic-book storytelling, Evans has produced this unforgettable book, filled with poignant images by turns shocking, angering, wry, and heartbreaking. (courtesy of Good Reads)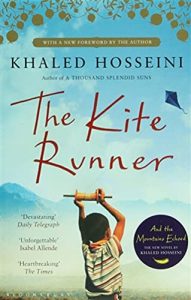 The Kite Runner by Khaled Hosseini
(Recommended by Action Language Coordinator, Ruth Colclough)
If this is a classic that's been sitting on your bookshelf unread, then hesitate no longer! This is an amazing saga which tells the story of Amir, a young boy from Kabul. The story is set against a backdrop of tumultuous events, from the fall of the Afghanistan monarchy through the Soviet invasion, to the exodus of refugees to Pakistan and the United States, and the rise of the Taliban. Hosseini's next books A Thousand Splendid Suns and And The Mountains Echoed are also well worth a read.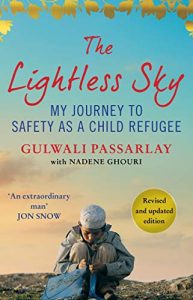 The Lightless Sky: My Journey to Safety as a Child Refugee by Gulwali Passarlay
(Recommended by several staff)
Gulwali Passarlay was sent away from Afghanistan aged 12 after his father was killed in a gun battle with the US Army. He made a 12-month odyssey across Europe, spending time in prisons, suffering hunger, making a terrifying journey across the Mediterranean in a tiny boat and enduring a desolate month in the camp at Calais. Somehow he survived and made it to Britain and was chosen to carry the Olympic torch in 2012. A powerful memoir which celebrates the triumph of courage over adversity.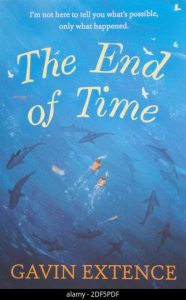 The End of Time by Gavin Extence
(Recommended by Communications and Events Officer, Pauline Holt)
Gavin Extence used to be an ESOL teacher helping asylum seekers and refugees learn English. He was inspired to write The End of Time by one of his language learners who referred to having swum to Greece from Turkey. Extence never found out the full story but it piqued his interest. This novel begins with two Syrian brothers swimming to Samos and their subsequent struggle to seek sanctuary in Europe. They're accompanied on their journey by a man called Jesus, who happens to have an alcohol problem and wears pink flip flops. This is a book that tackles serious issues with compassion and a sense of humour. It's moving and ultimately uplifting.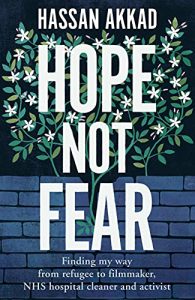 Hope Not Fear: Finding My Way from Refugee to Filmmaker to NHS Hospital Cleaner and Activist by Hassan Akkad
(Recommended by Head of Client Services Emily Malcolm)
Hassan Akkad was forced to flee his home in Damascus and seek asylum in the UK and in this book he shares his experience as a refugee, documenting his work as a cleaner on a London hospital Covid-19 ward and as a photographer and activist. It's a book about triumph over adversity and the importance of standing together and uniting in kindness and love. His photographs and advocacy have shone a spotlight on the often overlooked NHS cleaners and porters and instigated a U-turn on a government bill that had excluded their families from the bereavement compensation scheme.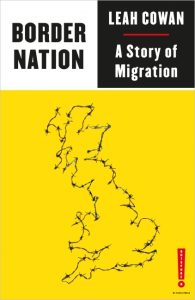 Border Nation: A Story of Migration by Leah Cowen
(Recommended by Support Worker Jen Willis)
In this book Leah Cowen lays out the radical idea of a world without borders. Borders are more than geographical lines, they impact all our lives, as we are all too well aware at the present time. Cowens lays bare the myths that vilify migrants in certain areas of the media and dives into the murky waters of corporate profiteering from borders and the ramping up of everyday borders through legislation. She looks at their colonial origins, and explores how a draconian approach to border crossings damages our communities.
And three children's books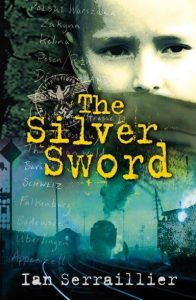 The Silver Sword by Ian Serraillier
(Recommended by Action Language teacher Ian Raby)
A children's classic about child refugees that I got when I was about nine but didn't read until years later as it wasn't about magic swords as the title would suggest! The 'sword' in question is actually only a paper knife, which became the symbol of hope and courage for the Balicki children and their orphan friend Jan through the four years of occupation when they had to fend for themselves. And afterwards it inspired them to keep going on the exhausting and dangerous journey from war-torn Poland to Switzerland, where they hoped to find their parents.Based on true accounts, this is a moving story of life during and after the Second World War.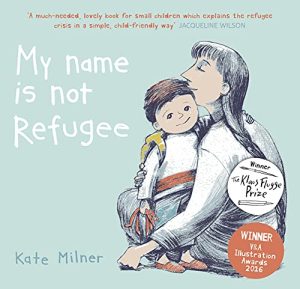 My Name is Not Refugee by Kate Milner
(Recommended by Support Worker Joanna Galloway)
A young boy discusses the journey he is about to make with his mother. They will leave their town, she explains, and it will be sad but also a little bit exciting. They will have to say goodbye to friends and loved ones, and that will be difficult. They will have to walk and walk and walk, and although they will see many new and interesting things, it will be difficult at times too. A beautifully illustrated book that will show very young readers that children forced from their homes are not just refugees but children just like them.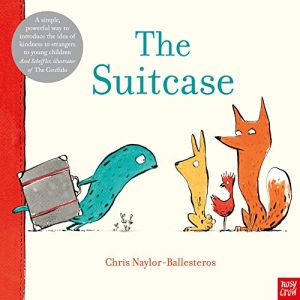 The Suitcase by Chris Naylor-Ballesteros
(Recommended by Sophie Pitches, Fundraising and Comms volunteer/ bookseller at the bound independent bookshop, Whitley Bay)
Khaled Hosseini, author of The Kite Runner) says: "At a time when over 65 million people are forcibly displaced around the world, this beautifully illustrated and wise, gentle tale of tolerance and kindness for fellow humans resonates deeply. I hope all parents share The Suitcase with their children."