Monday March 8th is International Women's Day, a celebration of the social, economic, cultural, and political achievements of women. So, we thought it would be the perfect opportunity to champion one of our brilliant Action Foundation volunteers, who really is an exceptional young woman.
Eighteen-year-old Nada Al-Hadal is from Yemen and has been both a student with Action Language and then stepped up as a volunteer for InterAction Drop-in where her Arabic language skills come in to play. She really enjoys supporting her fellow refugees and asylum seekers with translation to help them make sense of letters and forms.
But Nada also has an incredible story to tell. Aged just 11, she escaped being married off by her family and has since dedicated her life to campaigning against child marriage, making sure that other girls have the right to an education.
Read Nada's story on Chronicle Live.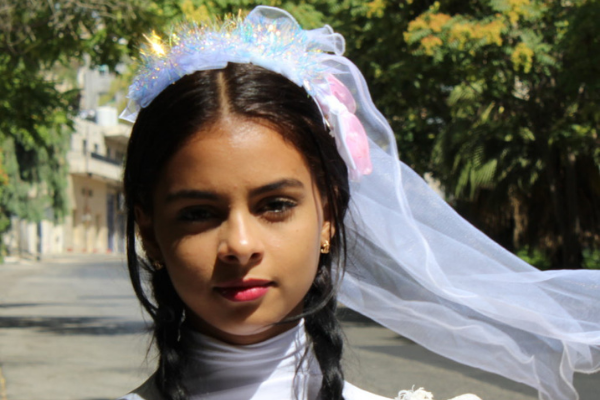 Raising girls' voices
She now lives in the North East with her uncle and told us: "I decided that I should show the truth about the victims of child marriage and raise every girl's voice and violations against women and girls in my community.
"According to the UN, every two seconds one girl gets married, every two seconds the life of a child is changed."
"I was almost a victim of child marriage at the age of eleven, my family tried to marry me to another man. I managed to run away and my story turned into a book in French and Dutch and I started to become more active in women's rights to try and spread awareness that girls shouldn't be in a house as a wife, they should be in a school as students."
Change makers
"I'm active in women and girl's rights, spreading awareness by social media about the consequences of child marriage and at the same time the importance of girls' education. For the next generation and for the country, not only the girl. I'm trying to spread awareness about equality between girls and boys that they have the same rights for being educated and completing their education and developing themselves."
"We should teach the children from an early age that women are the most important part in developing our society. They are the first point for creating a good generation because they are raising the children, they are raising our next generation."
"Change makers should be women because when a woman suffers it's women that can understand that. She needs to be supported when she suffers from violence, child marriage and honour crimes, so women can help them and change laws as well."
Open the door
Nada feels passionately about the role women must play in changing the course of their future. She says:
"Women shouldn't wait for society to give them their rights, women should fight for their rights because rights are not given, they are taken. When a woman suffers or needs support, she shouldn't wait for society or anybody to come and knock on her door and give her rights on a plate of gold. She should go and open the door and try to fight for her rights."