Action Foundation received an early Christmas present in a visit by the Lord Lieutenant of Tyne & Wear, Mrs Susan Winfield, who formally presented the charity with the Queen's Award for Voluntary Service, the highest award a voluntary group can receive in the UK.
We were one of 230 charities, social enterprises and voluntary groups to receive the prestigious award in June this year but were unable to hold an award presentation ceremony due to the coronavirus restrictions.
However, Action Foundation's CEO Julian Prior was keen that the occasion should still be marked and arranged for the Lord Lieutenant, along with Deputy Lieutenant Major Eric Ingram to come along to Action Foundation to present the award in a covid-safe socially distanced manner.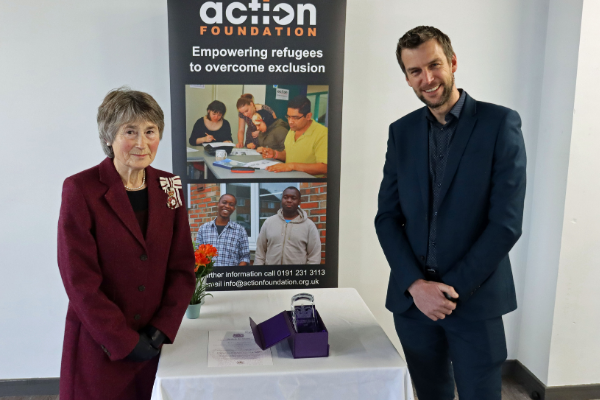 Julian Prior said: "The pandemic has presented so many challenges this year, but we were determined to find a way to celebrate the Queen's Award for Voluntary Service. We wanted our incredible team of volunteers to be included in the presentation as much as possible – it is their award after all!"
Mrs Winfield paid tribute to the volunteers saying: "You give so much to the people that you work with. You are rooted in the belief that every person matters, is to be valued, and treated with dignity. Often what you do for them is life changing. It is enriching activities like those of Action Foundation that make our community healthier, safer and ultimately happier."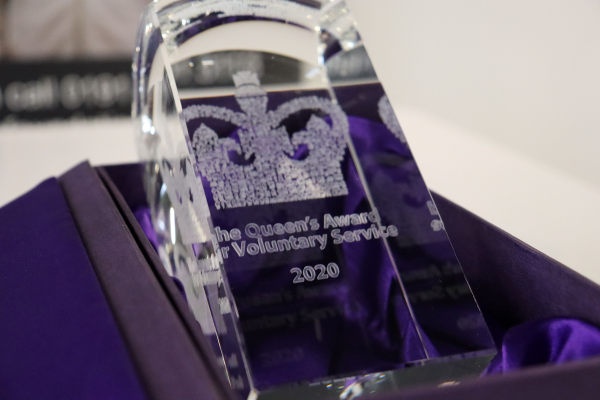 Once the formalities had concluded, Mrs Winfield took the time to visit Action Foundation's weekly InterAction Drop-in project, so she could speak to some of the volunteers – many of whom have lived experience of the asylum system.
The event was filmed and then broadcast out to Action Foundation's team of staff, volunteers, supporters and beneficiaries at the annual End of Year Celebration – which instead of the usual large gathering was replaced by a live Zoom party on Friday 18th December. There were some technical issues so we are sharing some of the videos again…
Watch The Award Presentation
As well as the Action Language Team sharing thoughts from the learners, we also visited the Drop-in to film some messages from the volunteers to share…
We enjoyed fantastic musical entertainment with pre-recorded performances by the wonderful Sam Slatcher and his group Citizen Songwriters, who work with our Drop-in delivering song-writing classes. We were also lucky enough to be able to share some great musical mash-ups and readings prepared for us by the Citizens of the World Choir.
Over the course of the one-hour event we received some wonderful messages – we'll leave you with some of the highlights:
"Dear Colleagues, May I take this opportunity to thank Action Foundation for all the work that you do in helping, supporting, enabling, caring for those who are in need for number of years . And Congratulate you on being given the Queen's Award . Well done to all . Finally, may I wish you and your nearest and dearest a happy and healthy festive season . Stay safe . Sincere regards Nadeem"
"We have hosted our first guest this year and it was brilliant getting to know him, and even better that he now has leave to remain here! Really looking forward to being able to do it again… Merry Christmas everyone"
"nice atmosphere and a professional environment. Proud to be part of it. Thank you for giving us the opportunity to volunteer and make a difference in other people's lives. Merry Christmas to all."
"Thank you for giving me the opportunity to be a volunteer in your fabulous environment."
"Such a privilege to be part of Action Foundation and so appreciate you all – clients, volunteers and staff alike"
words are not enough to say thank you to Action Foundation I wish you a merry Christmas and a happy new year . love you all❤❤❤❤❤"
"It's an enriching experience to be part of this organisation and to see the results of everyone's contribution."
"Thank you very much for your activities in this Corona situation that we should stay home this class helped me alot ❤❤❤"
"Merry christmas for all members of the action Foundation, our professors, a Ruth and the benefactors and I hope that next year will be better than this year happiness, health and prosperity … Good luck to all you ,and good year."
Thanks to everyone who came along to our End of Year Celebration.