"I felt very welcomed into the Action Housing team and orange is one of my favourite colours too!"
Born in New York, Lola O'Keeffe is now a native in Newcastle! Coming from a large family with connections around the world, Lola and her family returned to the UK when she was 8 years old and settled in the Yorkshire countryside.
Whilst an undergraduate studying Psychology and Philosophy at Durham University, Lola was an active volunteer with various local charities including the Butterwick Hospice and County Durham Society for the Blind.  After graduating she took up her first paid job with The Key, a charity that develops key skills in younger people, empowering and encouraging confidence and independence.
With a desire to go travelling around the world, Lola saved up enough money to allow her to spend a year in New South Wales, Australia, where she picked an awful lot of grapes! She later moved to Brisbane and took up a role as a charity telephone fundraiser. "Working to hourly targets for 4 months was quite stressful", said Lola.
Her next stop on her world journey was South America where she settled in Peru teaching business English to adults. Later she moved to Ecuador to teach in a bilingual pre-school. "My favourite country in South America was Brazil because it's an easy place to be a vegetarian!" she explained.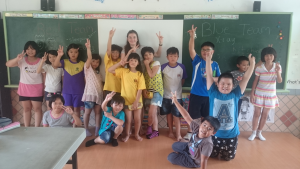 Moving on to Asia, Lola spent the next year in Taiwan as an ESOL teacher, teaching in various elementary schools. "The children were so conscientious and polite, and I really enjoyed learning some Mandarin too" she said. "East Taiwan is beautiful with lots of waterfalls and a stunning landscape, although the delicacy and must try dish of 'Stinky Tofu' really lives up to its name!" she added.
Lola returned to the UK after 2 ½ years and admits that it is lovely to be back home. Before joining Action Foundation, Lola worked at a school in Whitby as an ESOL support worker helping pupils whose parents had refugee status.  Her experience also includes holistic work with young adults (aged 16-29) as part of the Youth Employment Initiative, providing life, employability and college skills to enable them to fulfil their potential. She also enjoyed a brief stint working in social housing at North Tyneside Council.
"I really enjoy support work, which although challenging is fun too.  I wanted the opportunity to apply my skills with a new client group. To help others understand the legal framework that underpins people's opportunities and to gain a greater understanding of the holistic support available surrounding housing" said Lola.  "My role within the Action Housing team will be focussing on providing holistic support to our service users helping them integrate and become more independent and will include such things as helping them through the benefits maize of Universal Credit" she explained.
Outside of working hours, Lola can be found volunteering with environmental groups, practising her African drumming, eating vegan food or cycling – occasionally wearing orange!