With tier 4 restrictions giving way to another full national lockdown, our twice-weekly InterAction Drop-in service had to close at the end of 2020.
In the first few months of 2021 Yvonne and her team of co-ordinators were only able to offer advice and support to refugees and asylum seekers on an appointment-only basis as well as on the phone, but there's nothing like the friendly welcome you get from the team of volunteers and staff when you come through the doors at CastleGate; and that's exactly what was on offer when service resumed this week!
'It's great to be back'
"Everyone has been waiting for this moment." Mohamed said as we signed into the building, soaking up the palpable anticipation in the waiting line.
"It's great to be back. I've really missed seeing everyone." Amir, our long-standing InterAction volunteer told us as he checked temperatures, supplied hand gel and asked people if they had any covid symptoms before ushering them through to join the Drop-in.
Covid Safety
There's currently a limit of 15 people allowed into Drop-in at any one time, so volunteers keep track as a steady stream arrives and leaves – it was a question of one in, one out.
People are required to wear a mask, and the team are using Perspex screens for any sit-down chats.
As usual there was a friendly bunch of volunteers handing out food and making hot drinks. Although, with it being Ramadan there wasn't much eating going on! It was lovely to see people having a socially distanced catch-up and cuppa with each other though.
Team work makes the dream work
We grabbed a quick chat with InterAction Project Manager Yvonne, for whom it was her first Drop-in since starting with Action Foundation earlier in the year. She told us:
"We've had 33 people through the doors today, 29 of them are new to us. The main issues people were seeking our support with were housing, getting hold of bus passes, setting up bank accounts and lots of requests to join our Digital Inclusion project, access our Language classes and also to get hold of some clothes."
She added: "I am overwhelmed with the 13 volunteers who came along, they have all done a great job and we couldn't have done it without their help. They were all so professionally involved – it blew me away. The InterAction staff were completely dedicated to managing the operation of the Drop-in – Lizzie and Celia were calmly and efficiently seeing our clients one by one, and our team of volunteers were well looked after by Lesley. Our clients were following social distancing guidance while they were in the building. It was a fantastic day for all of us returning. Well done everybody."
InterAction Drop-in runs Tuesdays and Thursdays, 11am – 3pm at CastleGate, Melbourne Street, Newcastle NE1 2JQ.
---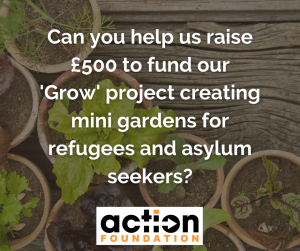 Can YOU help us support Refugees, Asylum Seekers and other migrants to set up their own mini gardens this Spring? Click her to find out more