As lots of us head out into our gardens to start the growing season, we thought our beneficiaries would really benefit from a spot of gardening too!
Action Foundation's 'Grow' project looks to support refugees, asylum seekers and migrants to start their own mini gardens this Spring. Many migrants do not have the finances to start new hobbies or access leisure services – something which we know is crucial to improving mental health and wellbeing. With your help, we want to equip our beneficiaries to create their own mini gardens and watch the fruits of their labour GROW!
Barclays have kindly donated us some seeds so now we're looking to fundraise enough money to provide our beneficiaries with compost, tools and pots.
Donate to the Action Foundation 'Grow' Project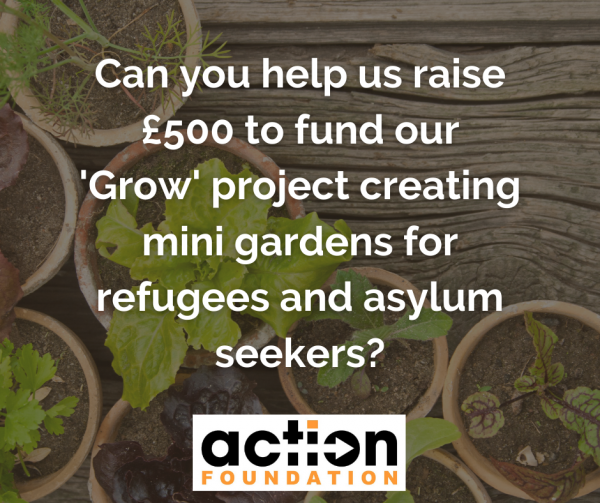 Support Worker, Sarah, told us: 'Many of our clients in supported housing have been feeling isolated and bored during lockdown, especially those with No Recourse to Public Funds (NRPF) as they can't afford to pick up a new hobby to occupy their time.'
'Over the last lockdown, clients have been asking me for ways to keep active and entertained, as well as ways to improve their wellbeing and mental health.'
Keeping busy during lockdown
'With the spring sunshine arriving, it is the perfect time for our clients to start a mini gardening project. Planting, watering, and caring for small plants will improve the wellbeing of our clients, as they have a task to do everyday and something which relies on their care – this increases people's productivity, motivation and overall wellbeing.'
Sarah also told us that this project will particularly benefit one of her clients who has no recourse to public funds and suffers from a mental health condition.
"He's been advised by his GP to focus on his wellbeing through keeping busy with activities and he has used his creativity to produce art in various forms. It is difficult to keep busy during lockdown and I believe this gardening project would give him something to focus his energy and mind on and I expect to see an improvement in his overall mood."
"I have asked the client about whether this project would be useful for him, and he agrees that it would benefit him as he has gardened before in his home country and enjoys it. He mentioned that he would create decorative plant pots by painting his designs onto them, as he has done this before and so is planning to take the project further than what I had imagined."
Please donate what you can and help improve the wellbeing of migrants this Spring!