Action Foundation's Hosting scheme matches trained volunteers who have a spare room with a destitute asylum seeker who need a safe place to stay. Marian has only been hosting for Action Foundation for six weeks, and her first guest arrived just one week before the Covid-19 lockdown. Consequently, Marian has no experience at all of hosting in normal times and has been kind enough to write about her experiences of hosting an asylum seeker in the current climate.
---
I had expected that I would carry on as I normally do in retirement, with a busy weekly routine and a casual hours part time job some evenings. I hoped that my guest would carry on doing whatever she did during the week; I thought maybe English classes, visits to the food bank and meeting with friends made through the refugee services. I'm living near to public transport that will take her to Action Foundation, to the West End Refugee Service and to college.
A new routine
This was not to be. As I write, it is unsafe to use public transport and the English classes, the food bank and the refugee service are closed. The £10 a week that she should have been getting from the refugee service has been delivered to the door by a very cheerful Action Foundation person.
She has also received an e-voucher from somewhere that can only be spent in Tesco. I have been doing a fair bit of driving around the city to Tesco Extra and Halal shops, but my guest cooks delicious food from her native country and shares it with me, so it's a win-win.
I decided to invest in a Netflix subscription for her and my unlimited broadband package is being well used. She keeps herself to herself, appearing around midday to cook brunch and then again in the evening to cook an evening meal.
Time in the garden
All this will change soon because we are approaching Ramadan, when she will be getting up before sunrise every day to eat and then cooking at sunset, half way through the evening.
Today we planted some seeds, something she had never done before; she really wants me to get a greenhouse so that we can grow tomatoes like her previous hosts. She can recognise the song of a chiffchaff.
Waiting game
She does not go out for walks, explaining that in her culture women exercise on the roof of the house and that teenagers and young women are never seen out alone. I think the idea of her grandmother striding off for a three mile walk is beyond her comprehension and that I am a bit of an enigma to her.
She is waiting for evidence to arrive with her solicitor that will trigger a new claim for asylum with the Home Office. I don't know how well I would cope, living with that constant sense of anticipation, hope and anxiety. At least she has a room to herself, a comfortable bed, food, a bathroom, broadband, a phone with which to contact people and the knowledge that this isn't going to go on forever.
'Hosting is a humbling experience'
Talking of which, she was supposed to be with me for six weeks. Her stay is now indefinite, pending the end of lockdown or some action from the Home Office, whichever happens first.
I'm very grateful that during a time in which I could have been very isolated, I have been able to help someone and at the same time enjoy their company. Hosting is a humbling experience; it makes me very grateful for what I have and teaches me not to take it for granted.
---
'Above and beyond'
Lesley Dunn is Action Foundation's Hosting Coordinator and is in awe of how the volunteer hosts are coping with the lockdown situation that has been thrown their way.
"The hosts on our scheme really make a difference to a guest's life and given the extraordinary times we find ourselves in now, I want to say a huge thank you to my current hosts who are going above and beyond in so many ways, it really is appreciated."
If you're interested in finding out more about becoming a host you can contact Lesley at [email protected]
Can YOU help?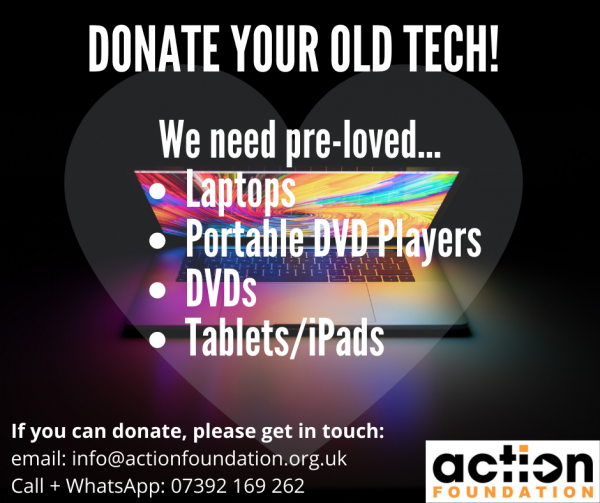 If you've got pre-loved tech hanging around the house, that's in full working order and has all necessary parts click here to find out how you can donate it…