A huge thank you to everyone who's donated to the Action Foundation Covid-19 Crisis Support Appeal, we are delighted to report that we have smashed through our £10k target and have raised an incredible £11,283 since April 3rd.
The team are working flat out to reach vulnerable asylum seekers and refugees, providing them with as much help as possible in these difficult times. This includes the provision of basic essentials, support being offered around welfare and housing issues, as well as regular phone calls to those who are feeling alone and isolated.
Since the 17th March…
154 welfare calls made to 137 individuals
55 food, toiletries and cleaning packs delivered to 42 households, 10 of which are now receiving recurring support
10 people supplied with phone credit
15 individuals helped with casework
weekly text messages to over 1,000 people with up-to-date information to support them during lockdown
'Resilient people'
Kate Townsend, InterAction Drop-in Manager told us: "So far we've been able to call over 130 of the people we'd normally see in English classes and at the Drop-in, and we plan to continue making these calls to check on people's welfare. We have a few hundred more to make!"
"Working in partnership with other charities across Newcastle, Gateshead and Sunderland, we've supported 52 households with food, toiletries and cleaning packs and phone credit."
"These are difficult and strange times for everyone, no less the incredibly resilient people that we work with. Everyone has been very grateful and happy to continue to be part of the Action Foundation family."
Kate added: "In the coming months, we will continue offering this practical support, as well as providing laptops for disadvantaged asylum-seeking families and individuals. We are also exploring how we can offer more English language learning support online – watch this space!"
'From the heart'
As part of the Covid-19 Crisis Support Appeal, Action Foundation also asked people to get in touch if they wanted to sign up as volunteers – and an amazing 70 people stepped forward!
Sue Dickson, who has been busy coordinating the group told us: "Volunteers have been ready at a moment's notice to take food, medicine, clothes, even collecting extras from friends from allotments. Nothing is a problem or too much trouble. People give their time, resources and compassion, all completely from the heart."
Sue added: "We have been overwhelmed by people's kindness and generosity. We want to speak and involve everyone who has replied so far, and we will no doubt ask for more volunteers again in the future if we need more help, but for now we have plenty!"
Vital support can continue
Action Foundation's CEO Julian Prior is overwhelmed by the contributions to the Covid-19 Crisis Support Appeal: "I am so grateful for the way so many people have joined together to raise over £11,000 and volunteer hours of their time in just a matter of weeks."
"We can already see the difference this incredible support is making to our beneficiaries, whose lives were challenging enough, even before the added challenges brought by the lockdown."
"And now, thanks to these extra funds, we'll be able to make sure this vital support can continue at this critical time."
Do YOU have pre-loved tech?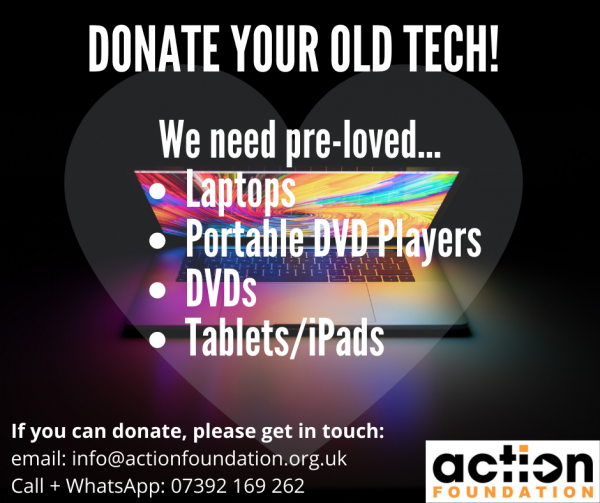 Action Foundation are asking for donations of second-hand laptops in full working order to pass onto socially isolated refugees and asylum seekers to help them stay connected with relatives, give them crucial access to news and information and allow families to more easily access home learning.
If you have suitable second-hand tech, please get in touch via email: [email protected]
Or Call/WhatsApp: 07932 169 262