Action Foundation are celebrating an impressive £10,581 campaign total for the Home or Alone Christmas appeal, created to raise much-needed funds for the continued running of the Action Hosting project.
Action Hosting matches volunteers (hosts) who have a spare bedroom in their home with a destitute asylum seeker (guest) who needs a place to stay for a short period of time. The hosts are fully trained and our thorough matching process ensures placements are a positive experience on both sides.
The money was generated in just under four weeks, through the generosity of supporters, one trust and volunteer fundraising events. It was also a successful pilot of our new option to donate via text message.
'Generosity and empathy'
Fundraising and Grants Officer Abi Walker is delighted with the response to the appeal:
"It's been incredible to see the collective response to our Home or Alone campaign – people have really come together to support refugees in our city at Christmas time! From our amazing supporters to the local press, we've been blown away by the generosity and empathy shown for vulnerable people. I'm incredibly proud to have been part of a campaign which sends out such a positive message in our city!"
CityChurch Support

As well as all the wonderful text, online, cash and cheque donations that flooded in, Newcastle CityChurch were kind enough to feature our appeal during their two 'Carols in the City' services in December, and an impressive £1,757 was raised as a direct result.
The carol service was an artistic retelling of the Christmas story with some incredible live performances. CityChurch have been instrumental to the charity's formation and supported Action Foundation since it began over 10 years ago – we cannot thank them enough for all that they've done for us.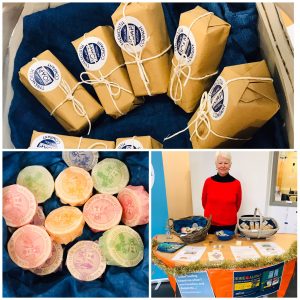 Action Language volunteer Helen also contributed to the appeal's success with her pop-up organic soap sale, raising an impressive £350 – generously donating the profits from her beautifully fragranced and packaged selection of organic hand soaps and lip balms to Action Foundation.
Press coverage
We were also boosted by some positive press coverage including a feature on Chronicle Live by local journalist Rachael Nicol who met with host Janet Smith and guest Zipporah – read it here
And we welcomed a crew from ITV Tyne Tees, who put together a thoughtful piece about hosting asylum seekers at Christmas from the point of view of both hosts and guests. Reporter Katie Cole took the time to film at our Christmas Celebration and also with host Ann Bingham.
Feeling welcome
Action Hosting Co-ordinator Lesley Dunn said: "It's been good to highlight the ongoing work that our fantastic volunteer hosts do, they are all amazing, as well as hearing from them what they get back from offering a room to a guest."
"This week, back in the office, I've been hearing stories from the guests about their Christmas experiences – all giving thanks for the warm reception they've received, how they've often been included in visits and made to feel so welcome."
"One of my female guests told me that she's been learning how to knit at her recent placement and what fun she had when her host took her to a local ceilidh, an activity she now wants to pursue further."
It's not too late to donate! Click here to give online, or Text ACTION10 to 70085 to donate £10 via text – you will be charged £10 plus your network standard text message rate.