Action Language volunteer Hilary Bennison is pulling on her goggles and plunging into her local pool this weekend to make a start on her 22 mile fundraising swimathon, which she aims to complete over the course of 12 weeks.
Action Foundation's superstar fundraiser has her sights set on completing a total of 1,408 lengths of Gosforth Swimming Pool, and has set herself a target of 64 lengths per session, which equates to one mile.
Hilary started volunteering with Action Language when she first retired almost six years ago. She began as a Teaching Assistant, and then was so inspired after 18 months she took a CELTA course at Newcastle College and is now leading classes as a Teacher.
"The students come from a lot of different countries and I've learnt a lot from them," Hilary told us. "What amazes me is how well they all get on in class and help each other – especially if someone's struggling. Their motivation is very high and they're very keen to learn about each other's culture."
Symbolic swim
The 22 miles that Hilary is swimming is the same width as the English Channel. Hilary added, "I have no idea how many of our students have come across the channel in all sorts of terrible dangerous ways, so I think that symbolism of doing a 22 mile swim made a connection for me."
"I wasn't sure if I could just come up my own fundraising challenge, but I came in to speak to Action Foundation's Fundraising & Grants Officer Abi Walker who gave me lots of support and encouragement," added Hilary.
Raising her game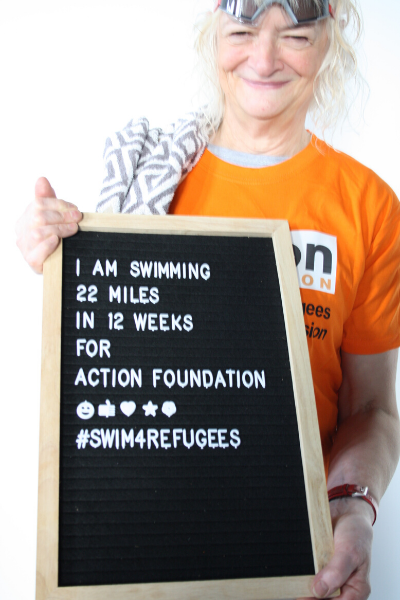 Hilary had knee replacement surgery six months ago so even though she wouldn't describe herself as sporty, she finds swimming really helps with her recovery.
Since Hilary started thinking about her challenge at the beginning of January she's started to raise her game in the pool.
"I've been adding a few lengths to my usual 30-40 and now I'm up to the full 64 I know I can do it. It takes just over an hour, so I'm aiming to do that twice a week."
"Some of my friends have laughed in horror and asked if it's a wind-up, but most people are being very supportive!"
Flexible challenge
"The local pool have been great and are going to validate my swim. I've bought myself a little lap counter, which is like a little digital watch you can put on your finger which you press at the end of each lap. So at the end of each swim I'll show the staff my lap counter and they'll sign it off."
"The flexibility of doing my own challenge really appealed, especially as the pool is only a 10 minute walk from where I live. The main challenge will be keeping my motivation up."
YOU can help keep Hilary motivated by hitting this link and sponsoring her! Hilary initially set herself a £400 fundraising target, which she smashed by raising £600 before she'd even got into the pool! The target has been upped to £800, so let's help her get there. We think she's absolutely amazing to take on this incredible challenge and we'll be keeping you updated with her progress over the coming weeks. Good luck Hilary!
Find out how you can be a fabulous fundraiser for Action Foundation – whether you want to come up with your own unique challenge like Hilary, or take part in the Great North Run or Three Peaks Challenge – email [email protected] or visit our fundraising page to find out more.