A group of women refugees from our InterAction Drop-in spent a day 'forest bathing' at Kielder Water and Forest Park to discover the healing power of nature.
The idea for the visit came from InterAction Project Officer, Raphaela Berding, who is a big fan of the outdoors herself and was motivated to share the benefits of escaping the city with some of our female clients.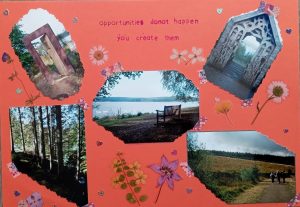 Raphaela said:
"It's quite difficult to get accessibility to the countryside if you are an asylum seeker or refugee. It's quite exclusive and certain communities are excluded. Yet the positive impact it can have is quite significant."
"For example, to get to Kielder you really need a car as it's difficult to get to by public transport. If the state impoverishes you, you don't have access to things like that, yet it has such a positive effect."
"I love nature myself – that's also how my idea came about. For me when I am super-stressed, I like to hear the birds, hear the wind going through the trees – it's not the same if you're just talking to friends in a cafe where it's busy – it's a different kind of healing especially for the community that we work with which is refugees and asylum seekers. And Kielder and the Northumbrian countryside is an important part of the North East that everyone deserves to be able to access."
Raphaela is studying for her PhD at Newcastle University and spotted a funding opportunity with the university's Institute for Social Science which she decided to apply for. Her 'Pioneer Awards' project was called 'The impact of therapeutic landscapes in facilitating the healing of refugee communities in the North East of England.'
What does healing mean to you?
Six women from a diverse range of countries – Ethiopia, Iran, Turkey, El Salavador, Kuwait and Iraq – joined Raphaela and InterAction Project Manager, Yvonne Cheung on a two and half hour forest walk. They were given disposable cameras and asked to take photographs of 'what healing means to you'.
"It was just a really nice atmosphere and a really nice trip to take," said Raphaela. "It was the fact that it was really quiet, the fact that you are outside of the city – the impact that had and I think even the fact that we were together in a group of women helped as well."
Afterwards, the women on the visit shared their experiences of the day and created picture collages of the visit. Here's what they had to say…
'It was relaxing to me. I go to home, I have a shower, I slept, yeah, I slept like a baby'

'The air is very soft here – you don't get that in the city'

'I feel so small among the big trees' 

'The place is very nice for healing… I just sit with myself and breathe and look and see the water, because the water is very relaxing.'

'I like the nature and the sheep and the water. It was very clean, the place is very clean.'

'I love the place that we were sit. I will never forget'

'I hope we will do another day like this…It's really helpful, out of stress.'

(Top image on this page courtesy of Northumbrian Water)