After celebrating the efforts of our fab fundraisers during Refugee Week, what better time to launch our brand-new Fundraising Pack?!
Now, more than ever, we rely on our community of fundraisers to help keep our vital services running. Money raised through community fundraising allows us to help plan for our future and direct resources to the projects that need it, when they need it. That's where you come in.
Our Fundraising Pack is your go-to resource which we hope will inspire you to host your very own fundraising event. Our Fundraising Pack has everything you need to get you started – from initial ideas, practical guidance and what impact your fundraising could have.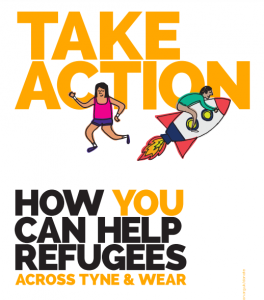 Fundraising Officer, Abi, can't wait for you to get hold of this brand new resource:
"We're so excited to finally launch our Fundraising Pack and help our supporters become fundraising champions. As we're approaching summer and lockdown restrictions are easing, there really is no better time to get involved with fundraising!
We really rely on our community of fundraisers to raise the funds which help us plan for our future and fund our support services. All the money raised by our dedicated supporters goes directly towards helping vulnerable refugees and asylum seekers."
This summer we want YOU to get involved and help us to raise money for our housing, language, social drop-in and digital projects! Whether you want to host a summer garden party, take part in a sponsored run or host a bake sale in your office – there's a fundraiser for everyone!
We caught up with fab fundraiser, Pauline, after she held a garden party in her garden:
"We had a fantastic day and were really lucky with the weather. It was a really lovely way of getting friends and neighbours together in a safe and fun outdoorsy way to raise money for your wonderful charity. And apart from raising money, it also spread the word about the valuable work of Action Foundation.
We'd recommend having a garden get together as it's not difficult to organise and is a really nice thing to do."
Check out our Fundraising Pack and contact [email protected] if you'd like to chat through your ideas over a cuppa!
A HUGE thank you to the team at Everything Design for their amazing work on our Fundraising Pack