Wednesday night saw the very first meeting of the Sunderland ESOL* Hub, led by Sunderland University and their TESOL department. Over 20 people attended and Action Foundation were lucky enough to be invited to speak and set the ball rolling.
Nicola Brooks, our project manager for Action Language, started the evening with a summary of the issues our learners and volunteers face, and a look at how other ESOL networks around the country work and what they achieve.
Nicola said: "Working together in this way will really help language learners in Sunderland as they navigate the city, giving support to find the best English classes for them and to get to know the community."
This was followed by some lively discussion of the range of support available in Sunderland, and sharing ideas on what the Sunderland ESOL Hub could do.
'Building something together'
A new Sunderland University project will support ESOL in the city through the Hub, as well as through classes and workshops with their own TESOL students and tutors.
Dr Michael Hepworth, lecturer in TESOL and education, was taking note of all the suggestions, and said "it's really great to see such a level of interest and enthusiasm, I really think we can build something together which will benefit people."
We couldn't agree more, it's exciting to be a part of it!
Join our Newcastle ESOL Network!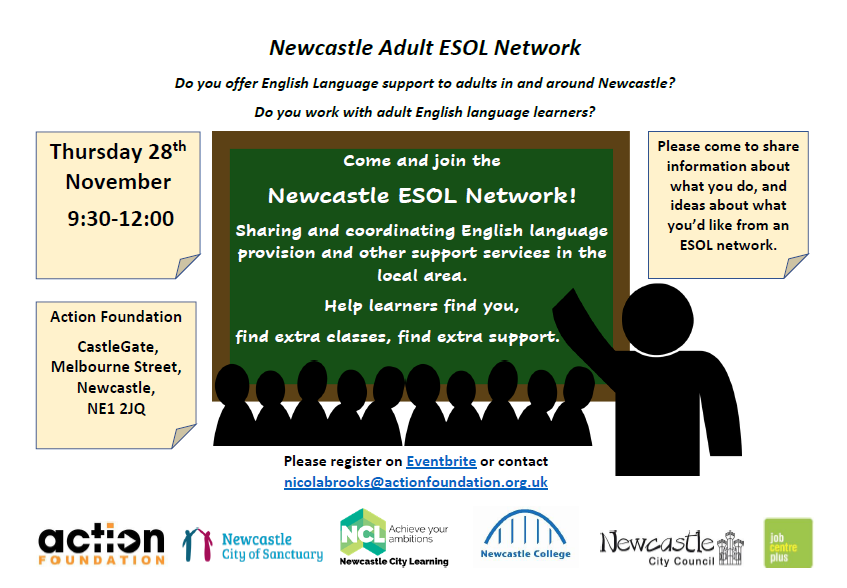 Action Foundation is also working to support a Newcastle ESOL Network, hosting an event later this month – click here for more details, or contact us if you'd like get involved in the networks!
*English Speakers of Other Languages