Anyone watching the reports coming out of Kabul cannot have failed to be moved by the horrendous plight of distressed people desperate to flee Afghanistan in pursuit of safety.
Understandably, Action Foundation has been receiving lots of enquiries from supporters keen to help in whatever way they can. Here's an outline of what's happening and how you can get involved in providing a warm welcome to all our beneficiaries.
---
So far the UK has evacuated 17,000 people since the start of April, 15,000 between August 15 and the end of the month.
Eight thousand of those people were evacuated under the Afghan Relocations and Assistance Policy (ARAP) scheme, designed to resettle interpreters and other people who worked for the UK in Afghanistan.
A second resettlement programme has also been announced by the government. The Afghan Citizens' Resettlement Scheme (ACRS) will allow a total of 20,000 people to settle in the UK in the long-term, with 5,000 people set to arrive in the first year.
New arrivals who come to the UK via this route will not have to go through the usual asylum process on arrival, but will be immediately granted leave to remain and will have access to work, benefits, education, healthcare and mainstream benefits and support. It is likely that initial accommodation will be provided in temporary hotels.
However, immigration lawyers have warned such resettlement schemes are often too slow and narrow in scope to enable people to escape persecution. Zoe Gardner, policy lead at the Joint Council for the Welfare of Immigrants says that although resettlement schemes can be 'life changing', they must 'only be part of the system.'
"When people are fleeing persecution, it just happens in a messy way," she told the BBC. "People will be coming off their own steam. They won't be waiting in a non-existent queue."
Here in the North-East many local authorities have pledged to play their part in providing a warm welcome.
What is Action Foundation doing and what can I do to help?
Action Foundation is committed to empowering ALL refugees, asylum seekers and other migrants to overcome exclusion and there are a number of ways you can help our charity achieve this mission.
We run twice-weekly drop-ins where people can access advice, meet others and pick up food and clothing. We also have supported housing projects, a digital inclusion programme and provide English language classes. If you would like to help Action Foundation by volunteering your time, through fundraising or by making a donation, please visit our Get Involved page.
If you would like to donate clothing or toiletries to newly arriving migrants in Tyne and Wear, our friends at North East Solidarity and Teaching (N.E.S.T) are collecting items on behalf of a number of refugee organisations in Tyne and Wear.
They particularly need men's clothing in small and medium sizes as well as new, unopened toiletries.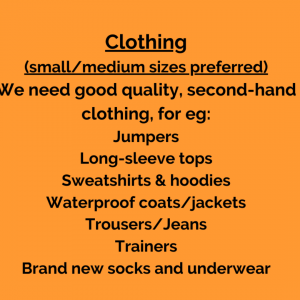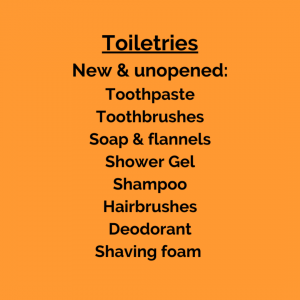 Donations can be dropped off at King's Gate building, Newcastle University, NE1 7RU between 10am-4pm Monday to Friday. To arrange a collection, contact NEST on [email protected] or contact them via their Facebook page.
Hosting
Our Action Hosting project is currently on-hold as a result of Covid-19. However, there are a number of national organisations that can tell you more about hosting refugees in your own home. Refugees at Home is a UK charity which connects those with a spare room in their home to refugees and asylum seekers in need of somewhere to stay.   There are also community sponsorship schemes detailed on the UNHCR website.
Campaigning
Under international law, there is nothing to say people must seek asylum in the first safe country or arrive through official channels.
However the Nationality and Borders Bill currently before parliament would make knowingly arriving in the UK without permission a criminal offence. That means any Afghan people not included in the ARAP or ACRS resettlement schemes, who arrive under their own steam, could be criminalised and face deportation.
Action Foundation is calling on our government to do more in response to the situation in Afghanistan, but also to do more to support people seeking sanctuary from other countries. Our CEO, Duncan McAuley has written about the implications of the bill and you can read about what we, along with over 100 other organisations, are asking the Government to do in relation to the Afghan situation here.
You can oppose the anti-refugee bill by writing to your MP using a template letter from the charity Asylum Matters.  And you can sign and share the Refugee Action petition here.