As the Action Hosting project is put on temporary hold due to the Covid-19 Pandemic, Hosting Co-ordinator Lesley Dunn is turning her sights to the InterAction Drop-in. She'll be joining fellow Co-ordinators Lizzie Walsh and Jonah Mesgarnezhad working with Project Manager Kate Townsend to deliver the twice weekly multi-agency Drop-in service, offering advice, support and human connection to refugees, people seeking asylum and other migrants in our community.
We caught up with Lesley to find out more…
---
First thing's first, you've done an incredible job looking after Action Hosing for two and a half years, what are some of the highlights?
There's so many, though there are some regular occasions when I get real job satisfaction. The times when we get to take a new guest onto the scheme: seeing their relief of knowing they are going to have somewhere safe to live and a support worker to help them; seeing their anxiety at moving into their first host's home and then hearing from them a week later that they've slept so well and how wonderful their host has been.
Also, training and getting to know new hosts, their excitement but trepidation of taking a guest for the first time followed by their feedback of it's all fine and they're looking forward to continuing. Generally working with a great group of hosts, who each offer something unique to each guest.
How are you feeling about your new role?
I'm excited to be part of the Drop-In team who have created a pretty special environment; and doing face to face work with clients, many of whom are at the beginning of their journey through the system and quite new to the North East. The paid staff are supported by a team of volunteers, many with lived experience, I'm looking forward to meeting them all and learning from them.
InterAction has had to adjust how it is run as a result of the pandemic, how is it all going?
There have been so many changes over the last few months, from working from home and setting up remote support to clients, to recently starting to offer support again at CastleGate. We're one of the first agencies to open our doors, so are now running two sessions a week from Melbourne Street, as well as a socially distanced park event on a Wednesday.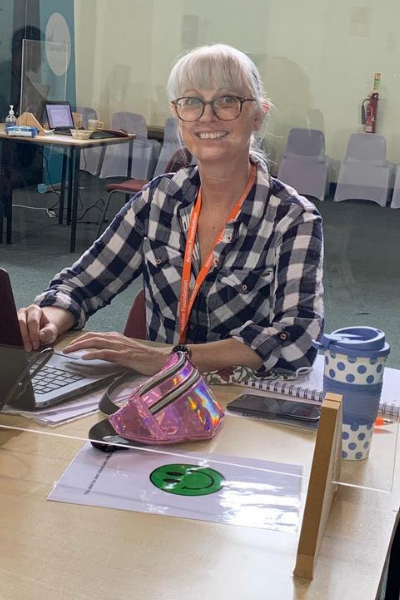 It's still early days, but we've had a good response from the beneficiaries and volunteers who have been to the Drop-In over the last couple of weeks. The Turbine Hall is a good large space, with such high ceilings that initial trepidation has eased. We've obviously made loads of adjustments to try and make the Drop-In work, but be as safe for all as possible. This includes temperature tests, a one-way system, screens up between caseworkers and visitors as well as handing out masks etc. You can plan all this on paper but in practice you have to think on your feet, as the Drop-In is a rapidly changing environment.
As you can imagine there are challenges to working with someone, who you've only just met for the first time trying to build a rapport with them, English is not their first language and we are wearing a mask – but the payoff is that hopefully you are resolving an issue for someone so they can leave with one less worry and maybe some toiletries and food.
What are you looking forward to most about working with the InterAction team?
I've really felt welcomed by Kate, Lizzie and Jonah so far, they've answered my incessant questions as I've tried to adapt quickly to their systems and procedures: there's a lot of knowledge and a good skills mix in the team. They've also gone through the changes above and then done the planning and rejigging of how the Drop-ins will work, they're a committed team so I'm looking forward to getting to know them better and seeing how the Drop-In will develop. I'm also keen to do some training on the Asylum Guides project when we get settled as I think that's an area that will be useful for so many people and then working with the volunteers on that.
What's your favourite thing to do when you're NOT at work?!
Previously I would have said catching up with friends, probably with a glass of something, a meal and watching a band and having a dance. In the last couple of weeks I've managed to do the first 2 or 3 when the weather has been ok. Fingers crossed for more of that.