Today (Monday 18 October) marks the start of a Week of Action highlighting the need for a more compassionate approach to refugees and asylum seekers in the UK as the government's Nationality and Borders Bill – dubbed the Anti-Refugee Bill – reaches its next crucial parliamentary stage.
Duncan McAuley, CEO of Action Foundation, is one of 50 signatories to a pledge, organised by Asylum Matters, IMIX and Together With Refugees stating our commitment to opposing this bill in its current form. You can read it in full here: North East Pledge on the #AntiRefugeeBill.
We believe that the outpouring of support we witnessed in the wake of the Afghanistan crisis shows that our spirit of care for refugees is stronger than ever and it is vitally important to speak out about the injustices that will be inflicted on people trying to seek sanctuary in our country, should this bill be approved.
In a few months' time, some Afghan refugees will reach the UK after a perilous journey. However, under this bill, they would be criminalised and threatened with deportation, a far cry from the 'warm welcome' the government promised refugees at the start of the crisis.
The bill seeks to punish people seeking safety for the journeys they have been forced to make and it will lead to even more dangerous routes to safety and will prevent people who have fled violence and persecution from rebuilding their lives.
The pledge we have signed, which will be distributed to MPs and media, states:
The North East is a place that is strengthened by refugees and people seeking safety. We are a region that cares for and stands up for everyone in our communities. Together, we pledge to raise our voices and take action to oppose this cruel anti-refugee bill.
How to Show Your Heart!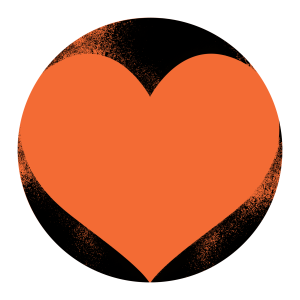 The orange heart represents compassion for people fleeing war and persecution. Inspired by the refugee nation flag, and the colours of a lifebelt, the heart symbolises hope and kindness.
You may wish to display an orange heart in your window or share an orange heart on your social media account(s), to show your support for refugees. The social media hashtags to share are #WhoWeAre and #TogetherWithRefugees.
You may wish to join an event. On Wednesday (20 October) at 12.30pm, people are gathering on King Edward's Bay in Tynemouth to show their support for refugees. Again anyone attending is  encouraged to carry an orange heart and/or wear something orange.
You may wish to write to your MP. There is a template letter you can download on the Asylum Matters website here.