A group of Action Language learners enjoyed a theatre trip to Northern Stage last week to see Here, a new play by the Theatre of Sanctuary company, Curious Monkey, which tells the fictional story of four refugees in Newcastle. Our Action Language project runs free English classes, two of them based in libraries in the east and west ends of Newcastle and since the play was set in a library, Action Language teacher, Ian Raby, seemed like just the person to review it. He gave us his thoughts…
---
A theatre trip may not seem like the most obvious choice for Action Language students, but when you have students learning English at the library in Byker and Northern Stage are putting on a play about people seeking sanctuary set in Byker library, fate must be telling you something!
Curious Monkey are a local theatre company dedicated to sharing the experiences of marginalised and unrepresented groups and their play, Here, which was premiered at Northern Stage last week, focused on a disparate group of people whose lives intersect at the library in Byker. Here was part of Curious Monkey's The Arriving Project; an ongoing initiative working with people seeking sanctuary in the UK.
The writer chose to focus on four people and their evolving stories: Pauline (who hailed from Portuguese-speaking Africa), Lulja (from the former Yugoslavia), Salim (from Kurdistan) and new librarian Janet (returning to her Geordie roots after leaving for Scotland as a child).
The play followed the four leads over the course of about a year and we witnessed their internal monologues as well as how they interacted with each other. The characters were very different and so were the actors and their acting styles. Salim – quiet, stoic and dignified, Pauline – a tidal wave of teenage emotions while Lulja was an unexploded bomb, threatening to go off at any moment. The character of Janet initially seemed a little out of place here, but was important from a broader comedy perspective and worked as a device to off-set some of the darkness which unfolded as we learned more about the other characters and their experiences.
The set, by Katie Scott, was a delight; narrow, freestanding bookcases that alternated as the inside of the library and as the Byker Wall, particularly effective during the night time scenes.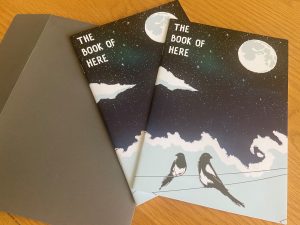 At the end of the play, audience members were instructed to look under their seats where they would find a gift. That gift turned out to be The Book of Here, a collection of writings (long and short, in English and in other languages) by a number of people involved in The Arriving Project. The Book of Here is something of a treasure trove which I know I will certainly be using as a tool in future ESOL classes.
Our students really enjoyed the experience. They particularly liked Pauline assimilating Geordie and some of Salim's experiences resonated on a more personal level with our Kurdish and Afghan students.
Everyone also seemed to relish the opportunity of going somewhere new and meeting up in an informal environment. Students who normally see each other online were able to converse face-to-face for the first time and some people were able to make new connections with students from other groups.
Curious Monkey were very generous in directing audience members to both Action Foundation and West End Refugee Service on the day of the performance and I hope that we, our learners and volunteers, can be involved in future, similar projects as I know that we have writers, academics, artists and performers attending our classes and of course, all our learners have a story to tell.
I must also report that Byker library is very much here, is well-used by the community and, unlike in the play, there's always more than one member of staff on duty!
Here was A Curious Monkey, Northern Stage and Newcastle University Co-Production, written by Lindsay Rodden and directed by Amy Golding.
Top photograph courtesy of picturesbybish