Businesses on Tyneside have been getting behind our Warm Hearts Winter Appeal, which aims to help the refugees and asylum seekers we work with get through the cost of living crisis.
Brand communications agency Cool Blue held a fun festive bake sale at their offices in Ouseburn's Toffee Factory to raise money for Action Foundation, whilst staff at law firm Clifford Chance have been running a World Cup sweepstake as part of their wider contribution to this year's campaign.
At the Coast, Whitley Bay lifestyle shop, Bellwoods has announced that 10 per cent of all sales taken on Friday 16th December will come to our Warm Hearts Appeal.
Tanya Garland, MD of Cool Blue, which also has offices in London and Middlesbrough, said staff had really enjoyed their fundraiser.
"It was great fun to be able to get involved with the valuable work of the Warm Hearts Winter Appeal. The spirit of Christmas was very much alive in our team's hearts and minds as they donned their aprons and oven gloves. And what more enjoyable activity than cake baking and sampling! We wish all the recipients of our fundraising efforts a healthy, peaceful and hopeful Christmas and new year. They, more than most, know what it feels like to be in desperate need, so I hope that any help we give can make a big positive difference."
Football fan Rhys Redpath, a Paralegal with Clifford Chance who also ran this year's Great North Run for Action Foundation with Facilities and Office Manager colleague, Chris Bowe, organised a World Cup sweepstake. Rhys said: "I got Saudi Arabia, Switzerland and Serbia so I am still in the running with Switzerland! Another colleague – Tom – and I advertised through internal email and we keep track of the sweepstake through a spreadsheet. We also have done a top scorer sweepstake as well. It's been a good talking point!"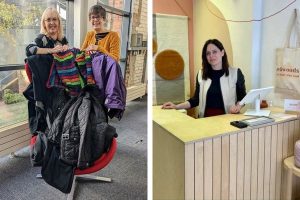 Finally Gardiner Richardson, another brand communications agency and our neighbours at Generator Studios, held a warm clothing drive for the asylum seekers and refugees who come to our weekly Drop-ins. Yvonne Cheung, InterAction Project Manager, said she was grateful to everyone who donated items to our shout-out for good quality winter clothing: "It really makes a huge difference to the people who use our services. If you receive just £5.83 a week, it's really difficult to afford good clothes."
If you'd like to run a Christmas fundraiser for our Warm Hearts Winter Appeal in your office or community group, please email our Communications and Events Officer: [email protected]