Fundraiser extraodinaire, Jon Sandwith, has just completed one of the UK's iconic walking challenges for Action Foundation. If you'd like to support him, there's still time. Simply click here to visit his fundraising page. Here's his story…
---
We have so many fantastic fundraisers.
Take Jon Sandwith – he has done the Great North Run for us for the past two years but this year he was unable to do the date.
Instead of taking a year off, he promptly arranged to take on the Yorkshire Three Peaks walking challenge in support of refugees and asylum seekers and he's just completed it – on one of the rainiest weekends of the year!
Jon said:
"For the last two years I've supported Action Foundation by running as part of their team in the Great North Run and loved every minute of it. Sadly this year I couldn't take part in the GNR, but I didn't want to use that as an excuse and still wanted to dig in and play my part, which is why I decided to do this challenge as a fundraiser."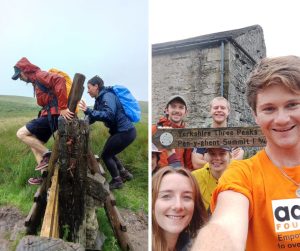 He took on the 24-mile (38.6km) hike with his girlfriend Andrea; sister, Ani; Ani's boyfriend John and friends, Phil and Emily.
Unfortunately the weather wasn't very kind to them, but they didn't let rain stop play. The Challenge requires walkers to finish in under 12 hours and Jon and friends clocked in at 10 hours 20 minutes.
Jon said: "It rained for just about every single minute of our trek. But honestly, that just made the challenge even more worthwhile – if you're going to do it, then you may as well do it properly!"
"The views and scenes during the hike were incredible, and put a shine on what was a cloudy and rainy day. Walking alongside the Ribblehead Viaduct was so impressive, and seeing the shadow of the Third Peak, Ingleborough, looming before us in the mist as we neared the end – that was a high point too.
Love and admiration
"Finishing was definitely the biggest high though! Cracking open the door of the pub after hitting the 24-mile mark and raising a crisp pint at the end was for sure sweet."
Jon said he was 'absolutely over the moon' to complete the walk.
"I've had my eyes on this challenge for some time, so to tick it off the list in this way, with such an incredible group of friends and family and raise money for a good cause at the same time – I feel really happy with that achievement!
"I really admire the love and support Action Foundation provides, from the work they do empowering refugees and asylum seekers across the North East to the support they give to volunteers and fundraisers – they're such a kind and caring family."
John has already beaten his £150 target to raise just over £220 for Action Foundation. If you'd like to add your own donation to his fundraiser, you can do so here.