Gaining refugee status after years of seeking asylum brings conflicting emotions – yes, it's a cause for celebration but there is often anxiety about finding somewhere to live and supporting yourself.
It can be a bewildering and frightening time when newly recognised refugees are granted leave to remain as they lose their asylum support from the Home Office and are given only 28 days to secure housing and income.
This is where our Action Letting project helps. Damee, a young adult from Ethiopia, gained refugee status in November 2020 and had to move out of his paid-for accommodation. With just a month to find somewhere to live, he approached Action Foundation and we found him a room in a comfortable shared house. Damee said:
"When I first moved in I had the smallest room, but as people have moved on, I now have a much bigger room with an en-suite bathroom. It is very nice and close to my college."
Additional support
Damee and his three housemates take pride in keeping their three-storey townhouse clean and tidy and have even set up a home gym in their shared upstairs lounge to keep fit. Damee plays football with friends on a local pitch.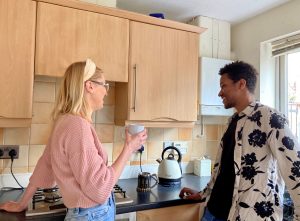 Sarah, Damee's support worker, helps with any additional support he needs.
For example, she fought to get Damee registered with a local health practice that initially turned down his application to register. She has also assisted him with Universal Credit; getting into college to learn English; getting a tablet from our Digital Inclusion Project to learn English over Zoom in our Action Language classes and he has signed up for a fork lift driving course through the Jobcentre. Damee added:
 "Sarah's the best. She helped me with everything and is now helping me find a place of my own."
Action Letting provides supported accommodation to newly granted refugees at risk of homelessness. As well as a room in a shared house, we provide regular sessions with  support workers who help prepare tenants for independent living in the community. In the last year our support workers have supported 94 clients, conducting an amazing 988 face-to-face sessions.
Support is tailored to individual need, empowering people to make lasting change. This might cover budgeting, health, social engagement and employment but in the last year we also helped two clients through the family reunion process.
Providing quality accommodation is a really important element of what we do and our recent work updating our 15 properties will ensure our high standards can be maintained for years to come.