Imagine trying to join in with English language classes on a battered old mobile phone with a tiny screen and limited internet access – not an easy prospect for those living on £5 asylum support per day.
Our Digital Inclusion project, which kicked off at the end of 2020, is tackling this issue head on. Aimed at adult refugees, asylum seekers and other migrants who are digitally excluded and at increased risk of social and economic exclusion the project provides:
Devices and data for those who do not have them.
Training on using new device and basic skills and competencies required to be active on-line safely mentoring to help clients with personal goals/needs such as accessing education and training opportunities or applying for work.
Action Foundation has recruited a team of six volunteers to help deliver the project who speak multiple languages.
Digital Inclusion Project Officer Jes Balmer told us: "The project has proved hugely popular amongst our clients both for the tablet and pre-loaded data sim but also for the skills and knowledge our volunteer trainers impart, meaning whole families can use their tablets safely and securely. So far we've been able to reach 165 people."
Now we're a few months into the project, we caught up with Zainab, who is one of the people to have received a tablet, to see what kind of impact having a tablet and internet access has had on her life…
---
Tell us a bit about yourself
I'm from Bagdad in Iraq – I had a nice life there, I had my own house, a car and I worked as an engineer; but had to leave because of the war. I lived in Turkey for five years before we came to the UK as refugees. My husband stayed behind to work, but we lost touch with each other and for years I thought he was dead. I have lived in Newcastle since 2017 with my four children aged between 8 and 17. It's very hard, we've had some dark times but I hope one day my husband will be able to join us.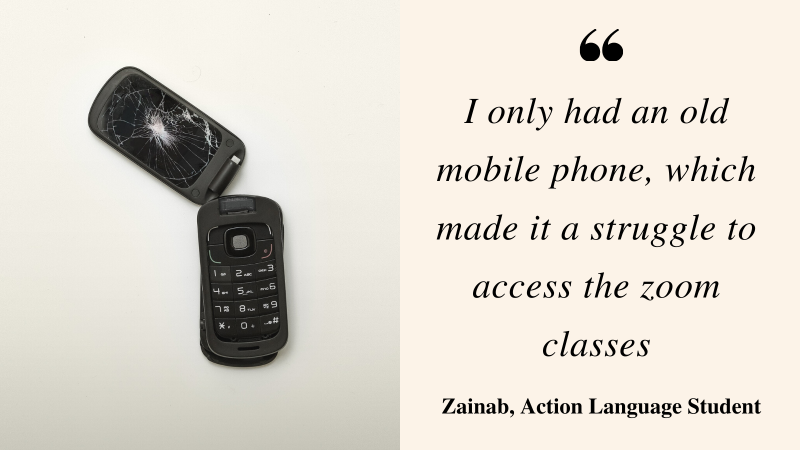 How have Action Foundation helped you?
I used to attend Action Language classes, but when the pandemic came I only had an old mobile phone, which made it a struggle to access the zoom classes. My English was getting worse again as I didn't get the chance to practice it as we are stuck at home. One of my friends is a volunteer teaching assistant with Action Language and asked me why I wasn't coming to the Zoom lessons. She told me about the Action Foundation project which could help me and they gave me a tablet which has been really amazing for me.
What are the zoom lessons like with Action Language now you have a tablet?
It's so much clearer, I can see everyone and everyone can see me and I can talk – it's completely different! Can you imagine using an old phone to try and do this?! But now with a tablet, it's perfect! I was sitting at home on my own with my kids, not talking to anyone, so now my English has got much better!
What else do you use your tablet for?
It's something useful for everyone. My eldest boy uses it to study every day between 11 and 4pm which is really helping him. I'm also looking for a job online and am doing a career course on it. I am so thankful to Action Foundation and Action Language for all they do for me. I'm really grateful for this kind opportunity. There aren't enough words to thank Action Foundation.
---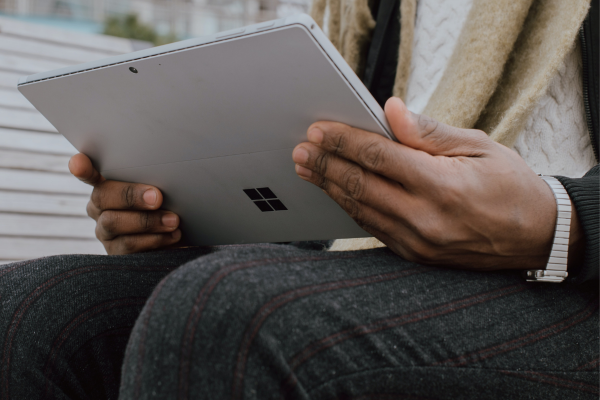 As a result of the second lockdown and the further risk of isolation and exclusion, Project Officer Jes Balmer told us the data allowance for beneficiaries has been increased, and where possible unlimited calls and data given to people for three months.
Action Foundation are now working in partnership with the following charities across the North of Tyne Area to support their existing clients:
• Walking With in North Tyneside
• Northumberland County of Sanctuary in Northumberland
• West End Refugee Service
• NEST
As lockdown restrictions ease Jes says he is hoping additional delivery partners will be in a position to partner with Action Foundation to extend the reach of the project even further.
Digital Mentoring will also be starting for beneficiaries who want 1-1 support with any of the following:
• Identifying goals and creating a simple step-by-step plan to achieve them
• Employment Support: Finding work, increasing your chances of finding the job you want, volunteering or referring you to specialised employment support providers
• Learning, Education and Training: Identifying and accessing learning opportunities (formal/informal, free/funded) at the right level in line with your aspirations
• Increasing confidence and digital independence,
• Reducing isolation and exclusion and connecting with other individuals and groups
Volunteer!
If you would like to become a volunteer with our Digital Inclusion Project please email [email protected] or call 07518 460 198.