It was grubs up for the latest students to complete the ESOL for Work course with Action Language as they joined staff and volunteers to celebrate their achievements with a delicious lunch this week.
Everyone brought in a dish from their own country to share, and the table filled with a delicious array of food from around the world.
'Tasty surprise'
ESOL Teacher and Co-ordinator Ruth Colclough always likes to round a course off with a special lunch, and said: "We don't really co-ordinate who's bringing what, so it's a tasty surprise on the day."
As everyone gathered around the table, they explained where their dish originated from and what ingredients they used to make it.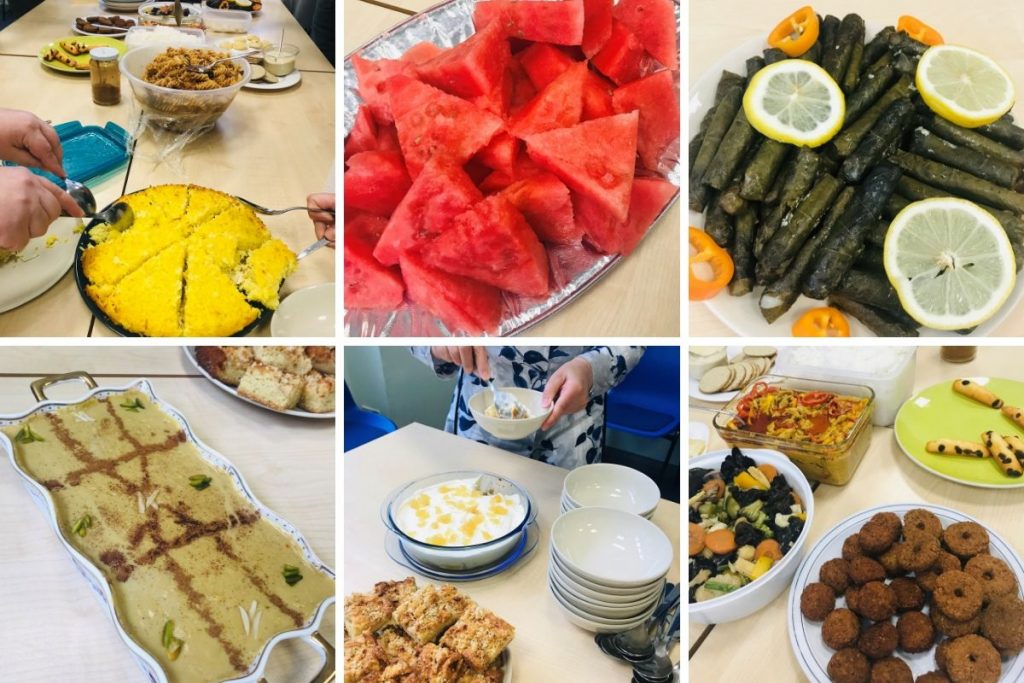 The Syrian students brought stuffed vine leaves with rice, lemon and garlic, and the crispiest falafel we've ever had!
There were two Iranian dishes – one savoury tagine rice and chicken dish spiced with saffron, and one sweet and fragrant rice pudding with cinnamon and pistachio, from a recipe passed down from grandmother to granddaughter.
Fiery curry
From Venezuela was a tasty little savoury dish called Arepas, which is cornmeal dough stuffed with butter and cheese. There was also a riot of red watermelon which really brightened up the table!
Kannan's wife had put together a wonderful pasta dish with aubergine and halal mince – they lived in Italy before coming to the UK.
Wanida, a student who came over to the UK from Thailand 12 years ago, brought along her mother's fiery but utterly glorious Penang Curry, with sticky rice and stir-fried vegetables on the side to cool it down. She said her mum had gone a bit wild with the chillies!
Words of thanks
From the UK, Sue from Action Foundation bought Hummus and Scottish Oatcakes, Ruth brought a wonderful Orange and Ginger Trifle and Anna, one of the volunteers had baked a delicious Dorset Apple Cake.
We're really hoping the students will share their recipes on the Action Language Facebook page!
Kannan, one of the learners, stood up to thank the Action Language team on behalf of the whole group for running the course and said what a difference it had made to everyone.
"When we started we were like newborns, but now we have learnt to walk. We can write a CV and face an interview without any problems. Thank you so much"
Wanida added "Doing this course has really helped with my English speaking and understanding. I hope to study beauty at college and it's my dream one day to set up my own mobile beauty business."