We're facing a new challenge here at Action Foundation. The arrival of the Coronavirus has dealt a devastating blow to the services we are usually able offer to vulnerable asylum seekers and refugees.
With the cancellation of Action Language classes and InterAction drop-in services our beneficiaries have lost valuable lifelines of support and are more isolated than ever.
Donate to our Covid-19 Crisis Support Appeal HERE
While everyone's scrambling to clear supermarket shelves spare a thought for vulnerable asylum seekers living in our community who only have £37 a week to live on – that's less than half of statutory sick pay. Let's not forget those who have been refused asylum with No Recourse to Public Funds at all who are also out there trying to survive.
Would you be able to stock up on two weeks' worth of food and toiletry supplies for self-isolation in that situation?! What about internet access or paying your utility bills? What must it be like self-isolating without any contact with family or friends?
What's our plan?
Action Foundation are working alongside other organisations in our community to provide a direct package of vital support to vulnerable refugees, asylum seekers and other migrants in and around Newcastle, Gateshead and Sunderland.



When people get in touch we'll assess their needs and offer them the following services:



 Food
 Toiletries
 Cleaning Products
 Other essentials
We will safely deliver bundles of these essential items to those in need


Supporting clients with welfare, housing issues and associated admin



Phone calls to beneficiaries who would benefit from low level emotional support and signposting to appropriate support services



Ensuring the latest advice and information about the Coronavirus is available in multiple languages and reaches asylum seekers, refugees and other migrants in our local community

How can YOU help?
We need you to support us so we can reach everyone who needs us right now…
You can make a difference by donating money or your time as a volunteer…
Time Donations
We're looking for volunteers in and around Newcastle, Gateshead and Sunderland to help with making non-contact deliveries of essential supplies, and also for people who can act as translators to make sure everyone has got access to the vital information and support that they need, no matter what language they speak.
Head on over to the Volunteer Page to find out more
Money Donations
We understand that the current crisis has hit a lot of people financially, but if you're in a position to give a donation today you can provide a vulnerable asylum seeker or refugee with: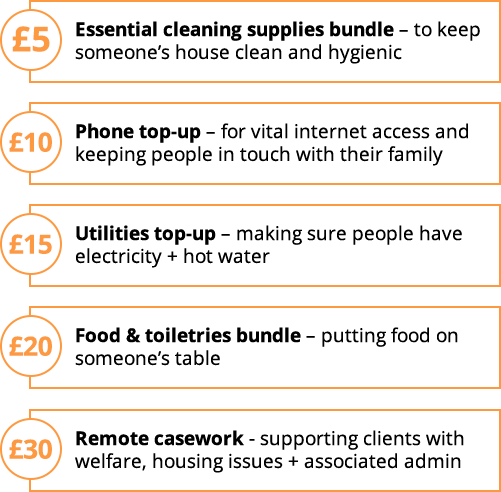 Click on our Donate Page or give the quick and easy way via TEXT
Text ACTION to 70085* to donate £5
Text ACTION10 to 70085* to donate £10
Text ACTION20 to 70085* to donate £20
*Texts will be charged at your standard network rate
Thank you. We couldn't do this kind of vital work without your support.