Story Update: Due to unforeseen circumstances, this live exhibition has had to move out of the gallery and online. You can visit it virtually at: www.annwinterstory.co.uk/the-earth-belongs-to-everyone 
Please share, browse, support with a purchase or donate if you are able.
Artist Ann Winter is putting Action Foundation on the map with her exhibition of collages aimed at raising funds and awareness for four refugee charities, including ours.
The Earth Belongs to Everyone is the title of the exhibition of land and sea map collages being hosted by the Wild and Free Gallery in Ilfracombe Gardens, Whitley Bay between Thursday April 6 and Thursday May 4.
Ann, who worked in ESOL for over 20 years and has since trained in visual and spoken storytelling explained how the collages came about.
"I was working with recycled OS maps when I found some old Admiralty sea maps I had inherited from my uncle who used to train people in pilotage in the Navy."
"When I discovered that the Admiralty maps I had were of the sea crossing between Calais and Dover it brought added poignancy to my work, which questions our relationships with land, body and ownership.  Using these sea maps, I began to reimagine the UK Government's aggressive stance towards people seeking safety in the UK, who no longer have access to safe routes to claim asylum and are forced to try to cross the Channel in small boats and inflatable dinghies."
"I know I speak for many in saying that the designation of the UK as a 'Hostile Environment' for people fleeing war and oppression, announced by Teresa May when she was Home Secretary for the Conservatives, is not one I recognise or want to be associated with.
"The 'Illegal Migration Bill', which is being actively opposed in both Houses of Parliament by North Tyneside MP and Chief Labour Whip Sir Alan Campbell, has already created a culture of abuse which has enabled such horror stories in the news as the mass kidnapping of children from a hotel in Brighton, and people seeking asylum being placed in poor quality accommodation. This is very much about my response to what's going on."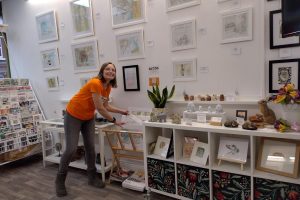 Ann has chosen four charities to support through this exhibition – two of them national, Care4Calais  & Choose Love and two of them local, Walking With In North Tyneside and Action Foundation.
She added:
"I wanted to use my exhibition to support charities that I really believe in, that are doing grassroots work and helping people improve their lives. I know people who work at Action Foundation teaching English to people seeking safety in the North East and I am very impressed at the kindness, practicality and professionalism they bring to this important work."