As part of our fundraising team, Business Development Manager, Abi (pictured above with partner, Ross), is used to being Cheerleader in Chief on the finish line at the Great North Run. But this year, she's decided to join Team Action Foundation as an actual runner in the iconic half marathon. She'll be writing a series of blogs in the run up to September's event and hopes it might inspire other first timers who may be feeling just a little wobbly…
---
Having worked at Action Foundation for four years, I've met lots of people seeking asylum and they've nearly always blown me away with their strength, resilience and kindness. The people we support have encountered unthinkable trauma and been through difficult journeys to seek asylum in the UK. They've not had an easy ride once they've arrived in Britain, with a policy landscape which is hostile and an asylum system that is complex to navigate.
Contrary to what you might read, people seeking asylum in our country are living in extreme poverty and are reliant on charities like Action Foundation to get by. Can you imagine having to rely on kind strangers to buy your clothes or toiletries? Waiting for a year in limbo, unable to work, while the Home Office makes a decision on your asylum claim? Being 18 years old in a strange country with no family or friends?
Despite this, every day I'm amazed by the sheer kindness and warmth of our beneficiaries. Whether it's a warm smile and remembering your name after meeting once, bringing in home-cooked food, despite their own tight budget or spending their last cash on a gift for one of our workers, I'm consistently blown away by these thoughtful gestures from people experiencing their own turmoil.
Regrets, I've had a few
Over the last four years, I've roped nearly all my friends into fundraising for Action Foundation in some way or other. Now that they've all sported an unflattering shade of Action Foundation orange at some point, I thought it was my time to do a crazy challenge in the name of charity.
High on the excitement of last year's run, I publicly agreed to take part in the Great North Run the next year. The next day I hoped everyone would simply forget I'd said anything but, of course, they did not. So begins my Great North Run journey!
I must preface this by saying that I'm not a runner or athletic person in any shape or form. Before taking on this challenge, the furthest I'd ever run was 5k and that felt like a marathon. During the pandemic, I lived in fear of being tagged in the viral 'Run 5k for the NHS' challenge and being forced to admit I couldn't actually run for half an hour.
My Great North Run strategy between last September to March this year was increasing my fitness without actually doing a dreaded run!  I've joined my local women's gym, boogied at Zumba and almost passed out at a spinning class. ANYTHING but running.
Taking it in my stride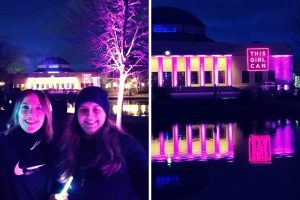 Feeling slightly fitter than I was in September, I felt ready to lace up my running shoes and hit the pavements in March. Turns out 45 minutes of Zumba a week hadn't boosted my fitness as much as I had hoped and I entered 'peak heart rate' after about five minutes of running.
To celebrate International Women's Day I ran the 'This Girl Can' 5k event organised by Newcastle City Council. It was great to be surrounded by amazing women, glitter and glow sticks as we plodded through the muddy fields of Exhibition Park on a cold day in March. For the first time, I felt a sense of community in running and couldn't help but be inspired by women of all shapes, ages and levels of fitness coming together with a common goal.
After my success on International Women's Day, I signed myself up for a Park Run at the same park. It's close enough to my house and, crucially, is a flat course. What could possibly go wrong?! I rocked up to Exhibition Park expecting a similar crowd to the 'This Girl Can' run and was shocked to find no glowsticks or glitter, but a sea of neon vests and serious faces. What occurred after that was a very humbling experience. I watched children no older than ten gleefully skipping past me as I plodded on, tomato face and sticky hair. I came 331st out of 363 runners.
Despite my slower pace, I really loved the Park Run and being part of a supportive group of people. Plus, nothing beats the smugness of walking past hungover students on a Saturday in your activewear. I'm that person now.
Fake it 'til you make it
We're now in June and I'm still panicking that I'll never be ready in time for September. I'm comfortably (ish) running 5k and steadily pushing myself to longer distances. I managed my first 10k at the weekend, something I felt would be impossible. I still can't imagine running twice that distance without passing out and don't feel particularly athletic. I still don't feel like 'a runner' but when I'm out jogging and another runner smiles encouragingly at me, I think that maybe I'll get there. And even if I don't, maybe I can pretend to be a runner for long enough that something clicks!
I really want to challenge myself and raise funds for Action Foundation along the way. It's definitely not been easy so far, but I'm determined to finish the race one way or another. My lovely fiancé Ross will be running the race by my side – sacrificing his own 'PB' to cheer me along.
Finally, I'd love to ask you to support me with this run by donating to my fundraising page. Action Foundation is an amazing charity making a real difference in the North East and I'm so proud to be running this race kitted out in day-glo orange. Even if it's not my best colour, it represents compassion for people fleeing war and persecution and is inspired by the refugee nation flag and the colour of a life jacket.
Please give what you can – https://greatnorthrun2023.enthuse.com/pf/abi-walker
Your donations and messages of support will really keep me going on the day. Thank you!