This year's Great North Run returns to its iconic city to sea route from Newcastle to South Shields and we're looking for people to run the 'world's best half marathon' for Action Foundation. But what is it like to take on this running challenge? We've been asking some of the people who've run it for us in the past. First on the starting blocks – long-time fundraiser Andy Lie.
---
Andy Lie has taken on the Great North Run an amazing 18 times for several charities including Action Foundation. Last year Andy, 64, who is the Ecumenical and Inter-Faith Officer for the United Reformed Church Northern Synod, got a GNR personal best of 2:01:02 and raised more than £1,500 to help asylum seekers and refugees. If you'd like to join Team Action Foundation in this year's GNR, you can sign up here.
What first decided you to take part in the Great North Run?
My wife Mabel and I came to England from Singapore in 1986 and moved to the North East from Nottingham seven years later. For many years I'm looking at people running the GNR. One day I was in a taxi – I remember coming back from the airport from a Singapore trip and this taxi driver had all his running medals on his dashboard. Most of them were Great North Run medals and I thought, 'Oh my goodness, I live in Newcastle, I live only 10 minutes away from the start point – what am I doing not running the Great North Run? At the instigation of a couple of good friends, I ran my first GNR in 2003.
How did you find out about Action Foundation?
My wife Mabel was and still is an Action Language volunteer so it just grew from there. Mabel and I were involved in Action Foundation's hosting project – we were one of the first hosts in 2016. We are still good friends with an Algerian man we hosted, and he is now well settled.
Why run for refugees and asylum seekers?
I think you are supporting a cause which at this point in time in international history is never more important – especially when refugees and asylum seekers are constantly in the news.
What do you like about the Great North Run?
The atmosphere is very good. It's very well attended and very well subscribed and on the morning itself you just see the Central Motorway (in Newcastle) filled with runners and that is exhilarating. There's music and crowds all the way to South Shields. There are water points which are very helpful and spectators offering sweets and chocolate, oranges and if you want, you can help yourself. You find a lot of people who are very generous.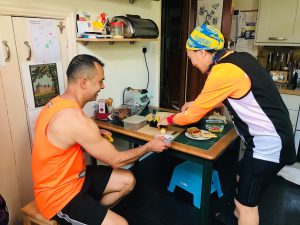 What do you like to have for breakfast?
For several years Mabel and I hosted a Team Action Foundation breakfast that everyone running for the charity was invited to. We offered cereals, cooked porridge, eggs, sausages, bacon, toast, juice, fresh fruits, tea and 'proper' coffee!
Are you pleased the GNR is returning to its classic city to sea route this year?
I really liked the route they did last year which took you over the Tyne Bridge twice. But people do like the coast route and the big field at the finish in South Shields – the Leas – where people can just rest and look out over the sea.
A half marathon is a 'walk in the park' for you though Andy because you are actually a marathon runner aren't you? 
A half marathon is not a piece of cake! You still have to put the effort in. Before Covid, I was travelling to different cities to do their marathons. In the UK I've done London, Manchester, Liverpool, Kielder, and Loch Ness but I've also run the Berlin and Prague marathons, Paris, Rotterdam, Vienna, Copenhagen, and Osaka in Japan. You cannot go to Japan and not run a marathon! Last year it was meant to be Helsinki but it was pushed back to May 14 this year so all being well that will go ahead next month.  I did the Ultra North 55 for the first time in June 2021 which starts and finishes at Derwenthaugh Park and is 34 miles. When I was 60 I set myself the challenge of running 600 miles over the year and I raised more than £3,000 in total for Action Foundation and other charities.
What do you most love about running?
The fresh air and countryside scenes. I think the recharging of your batteries. Being by yourself. Though occasionally I run with friends and have a good chat.
What's your training schedule?
I'm not one of those mad people running every day. I think your body needs to rest. I'd say I go out about five times a week – usually about three to six miles and then when I'm free at the weekends I will do a very long run, of 18-20 miles, but not every weekend. Your body needs to have rest days and three times a week I do stretching and physio exercises to try to stay injury free. The important thing about running is you need to listen to your body.
Do you have a favourite run?
London was nice, Berlin was nice, but the one I did enjoy was Loch Ness. A coach takes you 26 miles into the Sticks and then there's no turning back, you have to run back to Inverness! It was a nice crisp morning, fresh air, and some of it was by the shore of the lake. I didn't see the Loch Ness monster though!
What would you say to anyone considering doing the Great North Run for Action Foundation?
I would say 'Go for it!' You are fundraising for a very worthy cause. I've been supporting refugees and asylum seekers for many years, and you get great support from Action Foundation – there's a kind of camaraderie among the runners too in our rather distinctive orange vests!