It's Volunteers' Week 2023 and our annual opportunity to give a big shout-out to those who give up their time freely to ensure Action Foundation can make the difference it does to the lives of asylum seekers and refugees.
Last year no less than 73 volunteers helped deliver our free English language classes whilst another 50 people volunteered in our InterAction Drop-ins. We also have two stalwart volunteers who assist our accommodation team.
Experts by experience
We're particularly proud that most of the volunteers in our Drop-in (81 per cent last year) are asylum seekers or refugees themselves and volunteering has proven to be a gateway into secure employment for some.
For example former volunteer Fouad Quamar, a refugee from Kuwait, joined Action Foundation's staff as an InterAction Project Officer early last year and he has been joined by Shahnaz Shoueib, a Lebanese refugee and Tareq Ghaleb from Yemen.
Employment skills
As well as providing a route to work for some people within our charity, we also work hard to provide opportunities that will equip people with useful skills to help them gain employment elsewhere.
Recently, volunteers with InterAction have been cooking up a storm for people visiting our weekly Drop-in and advice sessions on a Thursday that are held in the Turbine Hall within City Church, Newcastle, where Action Foundation is based.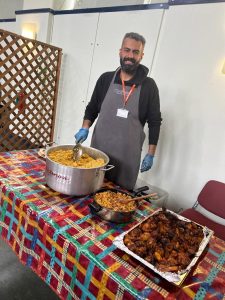 They have been able to gain Food Hygiene qualifications in the process, alongside creating some amazingly tasty dishes from around the world.
Language Volunteers
We're also lucky that Action Language learners often go on to become classroom assistants, helping our qualified ESOL teacher volunteers.
And where would we be without the dedication of our volunteer Action Language teachers and classroom assistants?
Hilary Bennison, who has volunteered with Action Foundation for eight years, first as a classroom assistant and then as a teacher, leading the class, says she gets as much out of being with Action Foundation as do her students.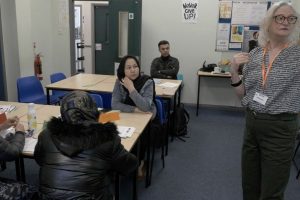 "I love it. I think it's possibly the most rewarding thing I have ever done," she says. "The students come in different circumstances but they have all had to leave their lives and their families and their livelihoods behind. They are marvellous and I'm constantly impressed and in awe of their dedication."
To ALL our volunteers in all our projects, we'd like to say a huge THANK YOU!