Can YOU help vulnerable asylum seekers and refugees cope with the Coronavirus crisis?
We're facing a new challenge here at Action Foundation. The arrival of the Coronavirus has dealt a devastating blow to the services we are usually able offer to vulnerable asylum seekers and refugees. With the cancellation of Action Language classes and InterAction drop-in services our beneficiaries have lost valuable lifelines of support and are more isolated than ever.
While everyone's scrambling to clear supermarket shelves, spare a thought for vulnerable asylum seekers living in our community who only have £37 a week to live on – that's less than half of statutory sick pay. Let's not forget those who have been refused asylum with No Recourse to Public Funds at all who are also out there trying to survive.
Would you be able to stock up on two weeks' worth of food and toiletries for self-isolation in that situation?! What about internet access or paying your gas and electric bills? What must it be like self-isolating without any contact with family or friends?
Action Foundation are working alongside other organisations in our community to provide a direct package of vital support to vulnerable refugees, asylum seekers and other migrants in and around Newcastle, Gateshead and Sunderland.
But we need you to support us too…
How can YOU help?
By giving a donation TODAY you can provide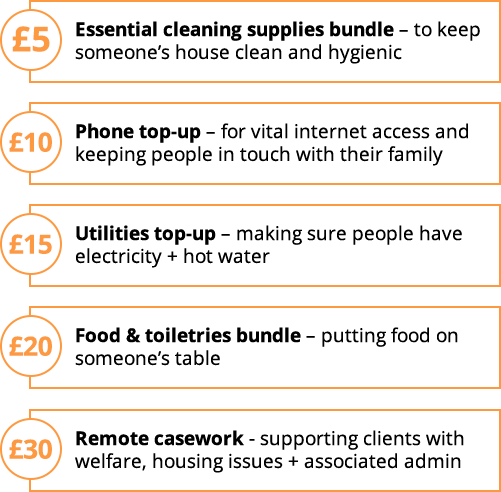 Ways to Donate to Action Foundation
One Off Donations
Text ACTION to 70085*
to donate £5
Text ACTION10 to 70085*
to donate £10
Text ACTION20 to 70085*
to donate £20
*Texts will be charged at your standard network rate
In 2019 Action Foundation…
refugees, asylum seekers and other migrants access our services.
Volunteers with an estimated value of…